BTR Hyundai Genesis Coupe in Preparation for SEMA Show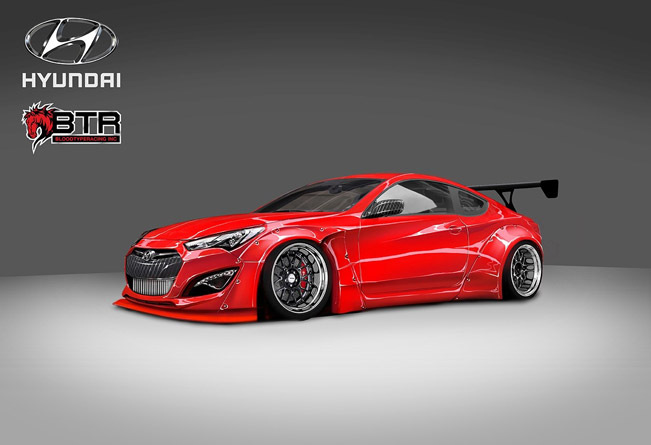 Blood Type Racing (BTR) has teamed up with Hyundai for a project which will have the "wow-effect" on anyone who sees it. The Chicago-based builder specializes in extracting extreme, street-friendly performance of the Korean vehicles. Precisely, BTR has specifically modified this Genesis for SEMA Show and it now features a host of engine upgrades, suspension changes, and exterior and interior modifications. BTR Genesis Coupe combines massive power with the true, adrenaline pumping experience of underground racing. The car will be revealed at the show 4th of November.
To go further into details, the coupe uses the 2.0-liter turbocharged four-cylinder engine. However, BTR has customized it and now the unit includes new sleeves and larger displacement. There is also an addition of a high-boost Precision Turbo turbocharger, strengthened and fully balanced internal components, a custom intake, intercooler, full exhaust kit and nitrous injection.
With all of the aforementioned enhancements, the powerplant of the BTR Genesis Coupe can generate over 800 horsepower (588 kW) to the rear wheels through a six-speed manual transmission. Furthermore, BTR has also worked on Genesis' appearance. They have added a custom wide body kit designed for BTR. The kit includes 40mm-wider front and 60mm-wider rear fenders, front bumper lip spoiler, rear diffuser and a GT wing.
Inside, the tuning specialists promise that we are to see Tanabe OLED Revel gauges, Sabelt racing seats and harnesses. The steering wheel is also new and it is provided by Sabelt, while the roll cage – from Cusco.
BTR Genesis Coupe Specifications:
Engine modifications:
Brian Crower BC625+ Forged Connecting Rods
CP Pistons 8.5:1 Compression 90mm Bore Forged Pistons (2.2ltr)
Darton International Cylinder Sleeves
Cosworth 90mm Bore Race Head Gasket
Brian Crower Oversized Stainless Steel Valves
Brian Crower Valve Guides
Tomei Powered Valve Springs
GSC Stage 2 Cams
ARP Head Studs
ARP Main Studs
ARP Flywheel Bolts
ARP Cam Tower Studs
BTR Custom Intake Manifold
Clevite coated Bearings
Upgraded Engine Mounts
BTR Custom ECU Tuning utilizing the OEM Hyundai ECU
Turbo Kit:
Intensepower T4 Twinscroll Top Mount Turbo Manifold
Precision Turbo 6266 Ball Bearing Twin Scroll Version 2 Turbo
Precision Turbo PW46 External Wastegates
GFB G-force II Electronic Boost Controller
Custom Down Pipe
Modified MXP Dual Exhaust System
Custom Precision TurboIntercooler System
Custom Oil Cooler System
Custom Fuel Return System
Custom Fuel Rail
Custom External Dual Pump Fuel Setup
Upgraded Injectors
Nitrous Kit:
Nitrous Express Direct Port Nitrous System
Nitrous Express Purge Kit
Nitrous Express Bottle Heater
Nitrous Express Bottle Blanket
Nitrous Express Billet Bottle Bracket
Drivetrain Modifications:
Competition Clutch Upgraded Clutch Kit
Competition Clutch Flywheel Kit
Enthuspec Stainless Steel Clutch Line
Tomei Powered Trax Advance 2 way LSD
Upgraded Driveshaft
Upgraded Axels
Short Throw Shifter
Shifter Bushings
Upgraded Transmission Mount
Chassis and Suspension Modifications:
Stance Suspension Coilover System
Stance Suspension Cup Kit
Whiteline Sway Bars
Strut Tower Braces and Body Braces
Enthuspec Adjustable Sway Bar End Links
Enthuspec Rigid Subframe Collar Kit
Wilwood Performance Brake Kit
Toyo R888 Tires
19-in. WORK Wheels Custom 2 Piece Wheels
Interior Modifications:
Sabelt GT-200 Carbon / Fiberglass shell Racing Seats
Sablet Sliders
Sabelt Racing Harnesses
Sabelt SW-390 Racing Steering Wheel
Planted Seat Brackets
Tanabe OLED Revel Gauges
Cusco Roll Cage
BTR Custom Rear Seat Delete
Exterior Modifications:
Custom Wide Body Kit Designed by Kei Miura
Custom Wide Body Front Fenders
Custom Wide Body Rear Fenders
Custom Front Bumper Lip Spoiler
Custom Rear Diffuser
Custom GT Wing
Custom Candy Red Paint
Source: Hyundai