Hyundai & Bisimoto Genesis Coupe - 1000HP [video]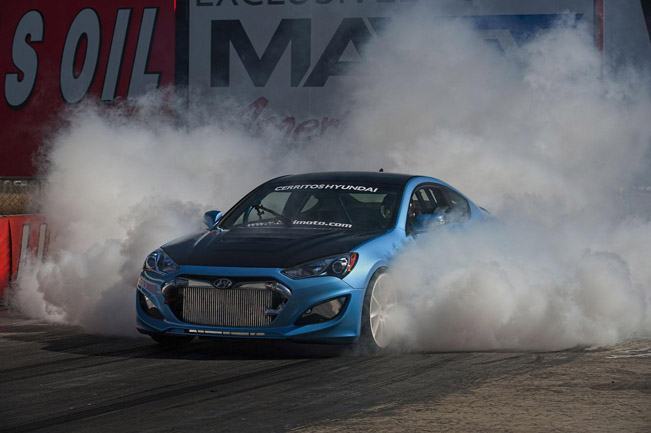 Hyundai and Bisimoto Engineering have announced their Genesis Coupe with 1000HP. The monster is specially designed to be a "no-holds-barred racer".
The 3.8 liter Lambda V6 engine is boosted by twin Turbonetics turbochargers. It also features Arias forged pistons, upgraded fuel injectors and a Magnafuel fuel pump. Other upgrades include custom ignition coils, a Sparco intercooler and a Burns stainless sports exhaust system.
The exterior boasts an Electric Blue paint job, a ventilated hood and a carbon fiber decklid spoiler. We also can see the modified front bumper and the huge intercooler behind it. Other highlights include a drag parachute and 20" aluminum wheels fitted with Toyo R888 R-Compound tires.
The interior comes with a number of upgrades, too - Buddy Club racing seats, a roll cage and a Racepack IQ3 digital dash. There are also carbon fiber elements and unique door pad inserts.
Source: Hyundai