2012 Cadillac Escalade Security Features
What a start of the year for Cadillac: just underneath the surface of the new 2012 Cadillac Escalade are new security features. Because the segment-leading luxury SUV is at the top of annual most-stolen vehicle lists, the brand has now developed a new way to combat thieves who have pushed and towed the SUV. The Escalade is well-protected against typical drive-away grand theft auto through existing security features and standard OnStar security technology. The aim is to make the Escalade a tough target for thieves without any added inconvenience for customers. The new system features strong protections, while working noiselessly in the background.
To go into details, the new 2012 security enhancements include PASS Key 3+, which is a sophisticated encryption system for the key; key cylinder and ignition system; a more-robust steering column-lock system that makes it nearly impossible to maneuver the Escalade onto a flatbed; an available inclination sensor that sets off an alarm when the system senses an unwarranted change of the angle of the vehicle, such as would occur with towing, flat-bedding or lifting the vehicle; an available shock sensor intended to reduce content theft and push-away theft by sounding the alarm when the vehicle is "shocked," such as by breaking window glass; and finally, there is also available new wheel lock system to help prevent the theft of Escalade's wheels and tires.
In addition OnStar provides standard security with a distant ignition lock that can prevent the vehicle from starting if a break-in is detected. And if a vehicle is stolen, OnStar will also show the vehicle location and remotely slow the vehicle down to assist law enforcement in vehicle recovery. Furthermore the new inclination sensors will make it more difficult to push or tow this SUV undetected. Unnoticed thefts and break-ins will be also hampered by the added shock sensors and locking devices.
Undeniably all these types of innovative theft prevention technologies are an important step in lowering thefts.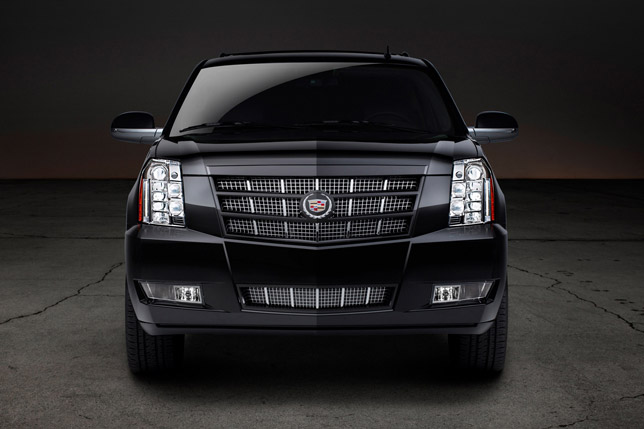 Source: Cadillac