2013 Carbon Motors TX7 MMV Shows Versatility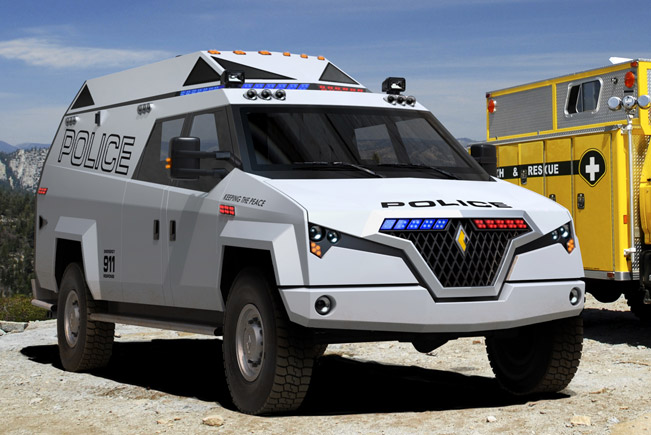 2013 Carbon Motors TX7 MMV is indeed a very special kind of vehicle standing under the name of Multi Mission Vehicle (MMV). It will offer integrated incident command, surveillance, prisoner transport and personnel carrying capabilities in an innovative and flexible package.
To go further into details, the TX7 is powered by a V-8 diesel engine mated to a six-speed automatic transmission. The latter drives all four wheels in 4×4 configuration with ten-person seating capability.
Furthermore, in the future there will be an environmentally responsible version of the car, which is going to be powered by a Compressed Natural Gas (CNG) powertrain. Innovations in power management, including piloting of certain solar array technologies, are also planned.
The TX7 is positioned to bridge the gap between patrol vehicles and the highly specialized vehicles which are utilized in situations such as disaster management, search and rescue, warrant service, perimeter security.
As a matter of fact, this MMV is so versatile, that it allows for a more affordable and flexible vehicle that is deployable more frequently and under a broader scope of scenarios reducing government expenditures. Additionally infrared, thermal imaging and weapons of mass destruction sensors (chemical, biological and radiation) further improve its mission readiness.
2013 Carbon Motors TX7 MMV will have a starting price of $ 149 950 and its production is slated to begin in late 2013.
Source: Carbon Motors