Chevrolet Camaro Safety Car Becomes WTCC Star [VIDEO]
Chevrolet was a main star in the past two years in the FIA WTCC seasons. Chevrolet's emblematic vehicle was always "one wheel ahead" of its peers and with the Cruze ended up number one plus an additional place on the podium in 2010 and 2011.
Now in the year of 2012, Chevrolet is proud to present the another race car for the World Touring Car Championship. The company expect that it will leave its competitors far behind. This is namely the official Chevrolet Camaro Safety Car.
The video below chows how the coolest pace car in the WTCC history is portrayed. In there you will also see its predecessors and the most emotional scenes from the 46-year Camaro history.
Chevrolet Camaro Safety Car
In fact the first ever Camaro was built in 1966, and ever since then it has only showed its huge motor sports potential. It has proven this with the number of trophies it has won during the years.
Although as the WTCC safety car the Camaro includes a serial V8 engine, which produces 432 hp (318 kW). With it, it can undoubtedly it outrace the touring cars of the series by about 40 percent.
Behind the wheel of this exciting car will be Bruno Correia. He is an experienced race driver and has driven in more than 350 races. In the five-minute video clip include below, he casts light on the life of a pace car driver. Furthermore he speaks about the accident that had happened in 2009, when the safety car's crew was acting rather rashly and collided with another race car. The result was serious accident.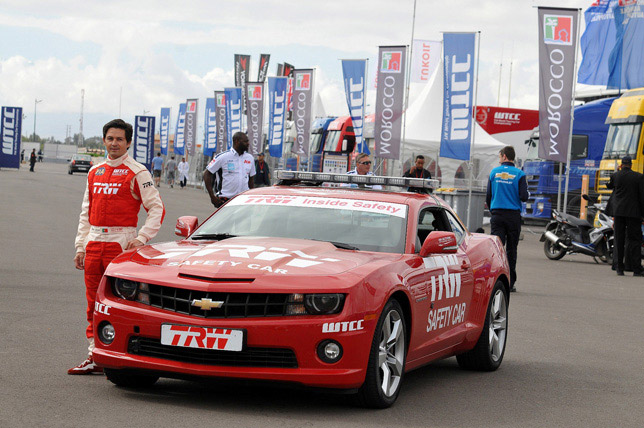 Bruno Correia with Camaro Safety Car
Source: Chevrolet