"Chevy Happy Grad" Advertisement – The Winner of Route 66 Super Bowl Ad Contest [VIDEO]
The advertisement called "Chevy Happy Grad" deserves some special attention, indeed. This ad won the Route 66 Super Bowl Ad Contest among 198 other choices. It was created by 26-year old Long Island resident Zach Borst. It will be aired officially during the telecast of Super Bowl XLVI. What is more interesting here is that the ads submitted for this contest gained more than 32 million total online views between December 22 and January 14.
The requirement for the filmmakers was to depict a life's journey and how Chevrolet is there along the way. "Happy Grad" ad not only answers this requirement but also shows the passion that Chevrolet elicits.  Moreover it is hilarious and lot of families can relate to similar situations, where expectations actually don't meet reality. Some great news for the filmmaker Borst is that the audience on Super Bowl Sunday is expected to exceed 110 million television viewers.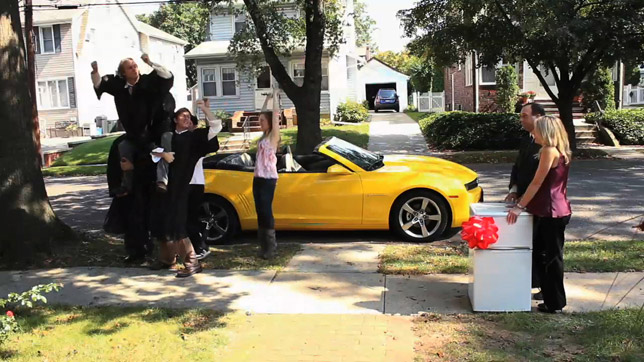 Borst filmed "Chevy Happy Grad" near his home on Long Island during a weather window that offered Zach, his cast and crew only four hours to complete the project. They did spectacular job, didn't they! Furthermore is that the story was inspired by his dad's efforts to buy him a car for his graduation. Although it was used, it was very special gift. This lead Borst to the idea, what it would look like if he got a brand new Camaro as a graduation gift? And this is how the ad was born.
You can watch the video below:
Video Source: YouTube
Source: Chevrolet