Chevrolet Fights Breast Cancer for Fourth Consecutive Year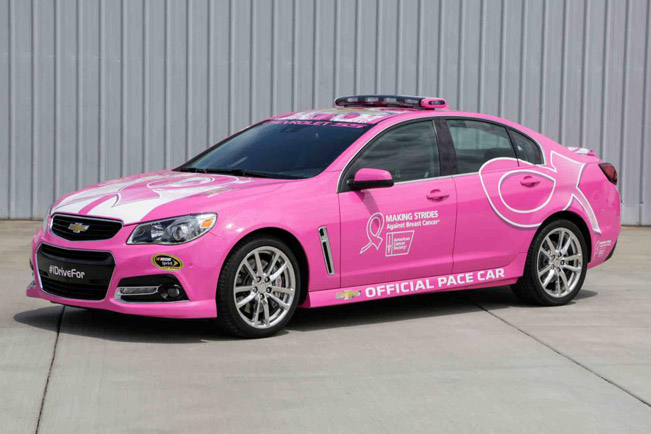 Chevrolet and General Motors are uniting to battle breast cancer for fourth consecutive year. Both companies are hoping to gather more than last year's $1.1 million proceeds this October. Te money will be raised for the American Cancer Society (ACS) through Chevrolet's nationwide grassroots support for the society's Making Strides Against Breast Cancer walks and other activities.
There will be several events, which will include nationwide employee and dealership-sponsored fund-raising walks as well as the especially themed pink Chevrolet SS. The vehicle will be the official pace car, making caution laps at three NASCAR Sprint Cup Series weekends. There also will be test-drive donations at Chevrolet dealers throughout this month.
The gathered proceeds will go for ACS's ongoing research, wellness and breast cancer awareness education. They will also support breast cancer patients and their families. In fact, since Chevrolet has been involved in this campaign, it has helped the society raise more than $3 million.
Breast cancer is one of the most common cancers among women in America. Its early detection and treatment are life-saving. Getting involved in a walk or making a donation is something anyone can do to make a difference.
Chevrolet-sponsored activities in October in support of Making Strides Against Breast Cancer:
Chevrolet test drives: Chevrolet will donate $10 for every customer who test drives a Chevrolet at a dealership this month
Team Chevy motorsports: Chevrolet is donating $250 for each caution lap that the pink Chevrolet SS Pace Car leads in three NASCAR Sprint Cup Series race weekends
Chevrolet and GM employee walks: During October, General Motors facilities, plants and warehouses across the country will participate in fund-raising walks. Learn more about the Detroit walk by visiting the event page and contribute directly.
Chevrolet dealership walks: Hundreds of dealerships are sponsoring teams in community walks. Apparel sales: Cruisin' Sports is contributing 10 percent of its sales from items supporting Making Strides to the ACS.