2015 Chevrolet Impala Bi-Fuel CNG Goes On Sale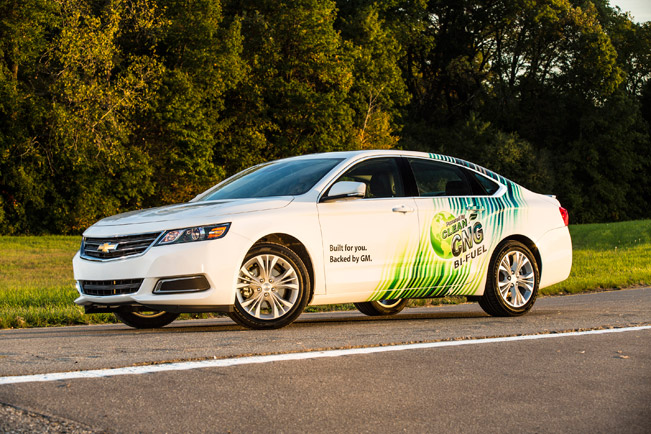 2015 Chevrolet Impala Bi-Fuel CNG is going on sale this summer as promised. The car was introduced last year and is the industry's only manufacturer-produced full-size sedan in North America that can run on both compressed natural gas (CNG) and gasoline. The car is offered in either an LS base trim or a higher-equipped LT trim. This Chevrolet was created in order to celebrate the 40th anniversary of the OPEC Oil Embargo – The National Summit on Energy Security.
The vehicle is available only with a 3.6L hardened engine with hardened valves and valve seats. This will deliver more wear resistance and durability with the CNG fuel system. The CNG tank is mounted in the trunk. It has an equivalent capacity of 7.8 gallons of gasoline, which means that it is expected to offer approximately 150 city miles of range on compressed natural gas. Gasoline and compressed natural gas combined will offer an expected range of 500 city miles.
Natural gas is one of the cleanest-burning fuels currently available. The vehicles that run on CNG produce fewer greenhouse gas emissions than gasoline-powered cars. In addition, it will also help customers reduce fuel costs next to the reduction of the greenhouse gas emissions.
Primarily, the Impala runs on CNG. When the fuel tank is depleted, the system automatically and seamlessly switches to run on gasoline. Those who want to change fuels while driving can do so by simply pushing a button on the dashboard. This button utilizes LED light to indicate when CNG is being used.
2015 Chevrolet Impala Bi-Fuel CNG has a starting price of $38,210 USD.
Source: Chevrolet