Meet Chevy Impala's Cool Midnight Version

Chevrolet Impala just received more aggressive looks, due to the addition of new exclusive trim level. The so called Midnight Edition is actually a special edition blacked-out package, inspired by a concept vehicle shown at SEMA last year. The car will be available for order this summer and will add all the premium characteristics of the new redesigned Impala.
Exterior
In terms of exterior styling features, the first thing to notice about the Midnight Edition is that it is all-black. Even Chevy's badges have been blackened out. The Jet Black exterior is accompanied by body color mirrors.
In addition, the alloys are in the size of 19-inches and are machine-faced with black accents. Black grille and surround, front and rear black bowtie and black rear spoiler are also a necessity.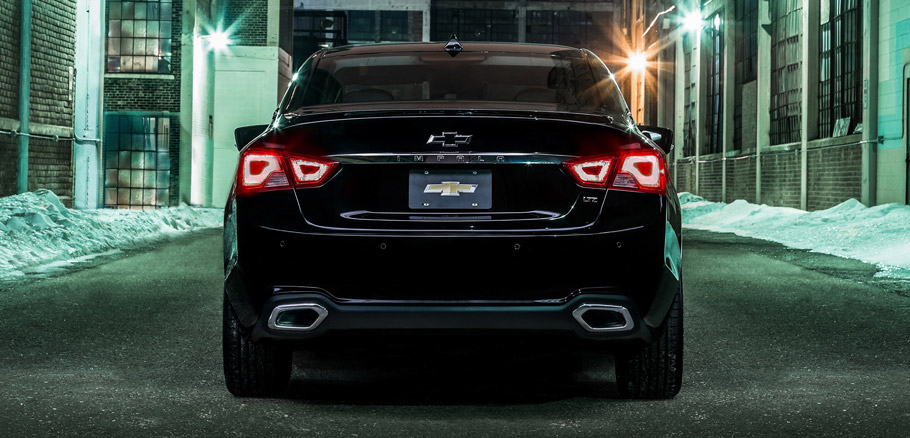 Interior
There isn't any official picture of the interior, but Chevrolet says that its theme is Jet Black, so we expect exclusive black leather upholstery and black interior elements. The difference with the standard model here are the sport pedals.
SEE ALSO: 2015 Chevrolet Impala Bi-Fuel CNG 
Drivetrain
Impala Midnight Edition can be ordered with a choice of two powertrains. The standard one is the 2.5L iVLC, which features stop/start technology and produces 195hp (145 kW) and 253Nm (187 lb-ft) of torque. The other one is the 3.6L V-6 that is claimed to be the most powerful naturally aspirated engine in the segment, generating 303 horses (226 kW).
Pricing and Trim Levels
This Impala special edition will have a limited production in the 2LT trim level with the standard 2.5L engine. Otherwise the package can be purchased on 1LT, 2LT and LTZ trim levels and costs between $995 USD and $1,595 USD.
Source: Chevrolet