Chevrolet Unveils the Silverado Special Ops Concept

Chevy's 2016 Silverado Special Ops concept is especially created to aim rescue teams in the special operations forces. Based on the Silverado 1500 Z71, the concept offers a restyled front-end design, advanced technologies, high-strength body structure and fully boxed frame. Furthermore, the Special Ops also comes with naval-inspired camo appearance, named Razzle Dazzle that was created a century ago to disguise a ship's speed, direction and profile to enemy's eye.
Furthermore, the concept blends unique components and newly developed parts from Chevrolet Accessories' portfolio for Silverado only to create a truck that enhance the capabilities for almost any mission. And along with the disguising features, the sweetie prouldy demonstrates its LED lights, off-road tires, wheel flares, custom rocker guards and more.
SEE ALSO: Chevrolet Nova 2.0 Is Here to Raise Hell One More Time
The inside welcomes you to a military-influenced cabin with Ejector Orange color on the door pulls and glove box handle. The seats are trimmed with special waterproof covers, while the instrument panel and armrests resemble the Razzle Dazzle camo paint scheme.

The complete list of Chevrolet Accessories include black bowtie emblems, underbody shield, sport bar, LED off-road lights, wheel flares, 20-inch aluminum wheels with off-guard tires, custom rocker guards, GearOn tired storage system, GearOn utility rack package, GearOn cargo tie-down rings, floor liners, spray-in bedliner and of course, embroidered headrests with the Special Ops logo.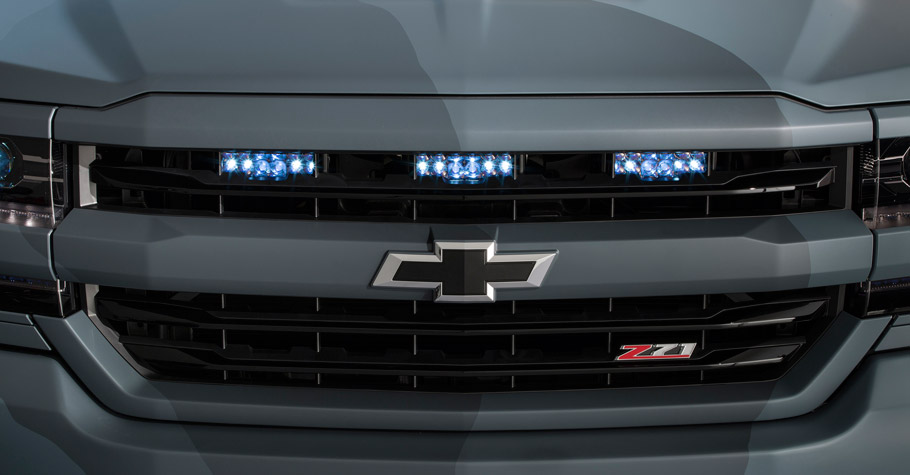 Massive, powerful and functional. Definitely this is a concept that deserves some more attention.
Source: Chevrolet