2014 Chevrolet Spark EV Unveiled Ahead of Los Angles Auto Show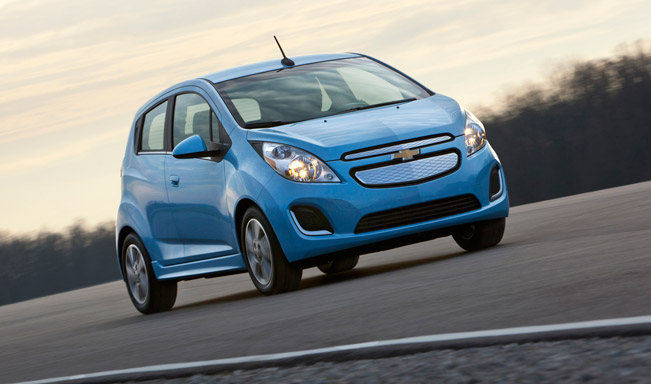 2014 Chevrolet Spark EV was just introduced before its official premiere at Los Angeles International Auto Show. The electric vehicle offers smart performance and connectivity technologies into an affordable five-door city mini car.
Spark EV will go on sale next summer, being the first EV to offer SAE Combo DC Fast Charging capability. This enables the car to reach eighty-percent battery charge in just twenty minutes. And when one uses a dedicated 240V outlet, Spark EV recharges in less than seven hours. Owners can manage and monitor the vehicle remotely via computer or with a special Chevrolet Mobile App.
Furthermore, the futuristic feeling that leaves this Chevrolet can be felt inside as well. There a critical vehicle functions are clearly and intuitively displayed on one of the vehicle's two reconfigurable seven-inch color LCD screens, including a confidence gauge that shows the expected driving range based on driving habits and other conditions.
On the other hand, for the excitement and fun of driving will take care the MyLink radio and safely brings smartphone-based infotainment.
What is more important however is to mention that the Spark EV is powered by an advanced electric motor and battery system. It comprises of coaxial drive unit and electric motor. Both generate 130 hp (110 kW) and 400 lb.-ft. (542 Nm) of torque for instant acceleration. In addition, the 20-kWh lithium ion battery is said to be one of the best in its segment.
Moreover, the long-life of the battery is designed in such way that it offers safety, durability and reliability. It weighs of a 560-pound (254 kg) and has a volume of 133 liters, comprising 336 prismatic cells.
The exterior design of the Spark EV was created in such way that it conserves as much total energy as possible and this in addition maximizes battery range. One important way to achieve that is by improving the vehicle's aerodynamics.
The strong presence of the EV is further enhanced by its exterior color. The range here includes the following themes: Electric Blue, Black Granite, Summit White, Silver Ice and Titanium. Inside, designers sought to create a comfortable and spacious cockpit with noise-reduction features and a combination of bright accents in Electric Blue and chrome.
Source: Chevrolet