CHEVROLET SPARK by KBR Motorsport
Every know and then, tuners run out of ideas and start searching for possibilities in places where no one would think of. Here we have such a case. It's hard to say that the Chevrolet Spark is the best looking supermini out there, nor it is the most thrilling. But the guys at KBR Motorsport have given it a shot anyways.
They started off with with a set of matte black Barracuda Voltex T6 rims, They sound kind of menacing but in real life, the figures speak for themselves: 7 x 17-inch wheels with 185/35R17 tires on them – cute. KBR also added their home made silencer for that extra growl. Also at the tail gate, the badging, wiper and lock have been simply removed because that's somehow considered customization. Some foil has been applied to for color orientation courtesy to CoverEFX. Really that's about it. Kind of superficial, we couldn't help but thinking.
To own a KBR Motorsport Cehvrolet Spark one needs to cough up 5000 Euros which makes things sound even more ridiculous. If we wanted some glamor in the first place, we wouldn't go for the Spark in the first place. Invest in a MiTo instead.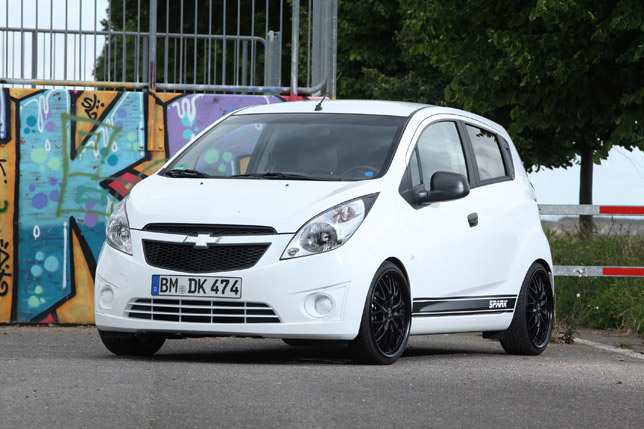 Source: KBR Motorsport