American Favorite Sports Cars to Pace Belle Isle Grand Prix
This weekend, two sporting events will come to Detroit – the Chevrolet Grand-Am 200 at Belle Isle on Saturday and the Chevrolet Indy Grad Prix on Sunday. The former will have a Chevrolet Camaro ZL1 pacing the contenders while the latter will get the Chevrolet Corvette 427 Convertible.
"With Corvette and Camaro, Chevrolet has two of the most popular, and most iconic, performance cars in the industry," said Chris Perry, vice president, Chevrolet Global Marketing. "It will be very exciting to see them leading the field as racing returns to Detroit."
Looking at the statistics, its clear that those two are the right choice – back in 2011, every third supercar sold in the US was either a Camaro or Corvette. This year, that trend is still up as total sales for Camaro lead its nearest competitor, the Ford Mustang, by 13 percent through April. For the same period, Corvette sales are 39 percent higher than its nearest competitor, the Porsche 911
But we need other numbers to be convinced that the Camaro and Corvette are as appealing as they say. Fortunately, those numbers are present as well: The 2012 Camaro ZL1 Coupe which will have the job to pace the Grand Am is the most powerful one up to date – 6.2 liters of displacement, V8 cylinders, supercharged, it's engine develops 580 hp and 556 lb-ft. of torque. It sounds raw, but it isn't. The magnetic suspension is looked after by a sophisticated Performance Traction Management so that you have infinite amounts of grip. Then, even when the infinite comes to an end, the six-piston Brembo brakes to keep you out of trouble. As a result of all that, the Camaro ZL1 goes from 0 to 60 mph in 3.9 seconds and has a top speed of 184 mph. It's current record at the Nürburgring stands at 7:41:27.
Similarly to the Camaro, the 2013 Corvette 427 is the most powerful convertible Chevrolet out on the markets. In fact it's one of the most powerful convertibles in general. It has an engine from the Corvette Z06 which erupts with 505 hp and 470 lb-ft. of torque every time you step on it. Because of extensive use of carbon fiber, the 427 is lightweight as well – 3,355 pounds. (for a convertible). That means a power-to-weight ratio of 6.64 – or one horsepower for every 6.64 pounds of vehicle mass. That puts to shame well-established brands such as Audi, Aston Martin, Ferrari and their respective convertibles. For the Chevrolet Corvette 427 to do a 0 to 60 mph run it takes 3.8 seconds and the top speed boarders 190 mph.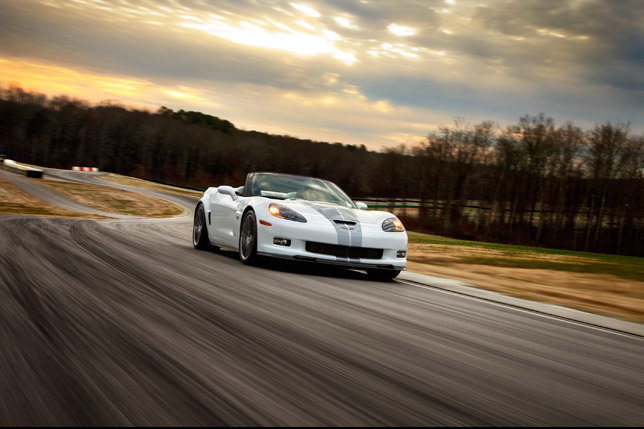 Chevrolet Corvette 427 Convertible
Source: Chevrolet