Compact Toyota Aygo Revealed In Geneva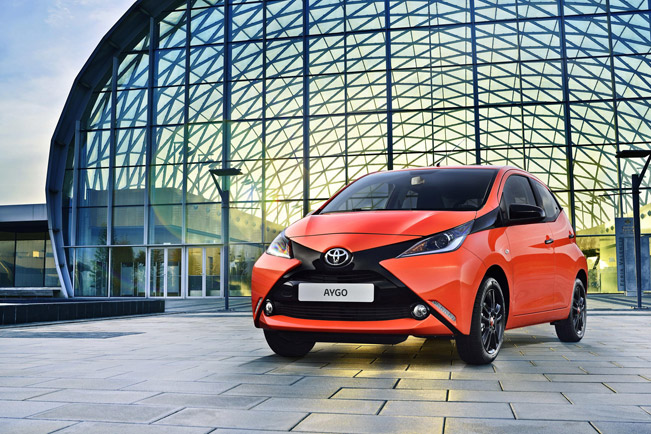 Toyota Aygo was just revealed at the Geneva Motor Show, showcasing a distinctive and characterful design. In these terms, the car was also dubbed J-Playful in reference to Japan's hip youth culture.
Aygo is compact, nimble and reliable, and of course has low running costs, which are due to the three-cylinder 1.0-litre VVT-i petrol engine. The car sports relatively small dimensions; it has an overall length of 3,455mm, height of 1,460mm, and widened front and rear tracks.
The most striking design element is Aygo's distinctive frontal X-graphic, which spreads outwards across the surface of the bodywork, and takes in all the vehicle's main external features, including upper and lower grilles, headlamps, foglamps, and even mirrors and side glazing.
In profile, the roof has been lowered and the front header moved forwards. The result is that cabin's centre of gravity also moves. The roof has a new pagoda-style profile and an integral rear spoiler. At the he rear end the tailgate and lower bumper form break lines in the vehicle's solid surface. The lamp clusters are set within the hexagonal tailgate, and the upper bumper section widens into pronounced wheel arches.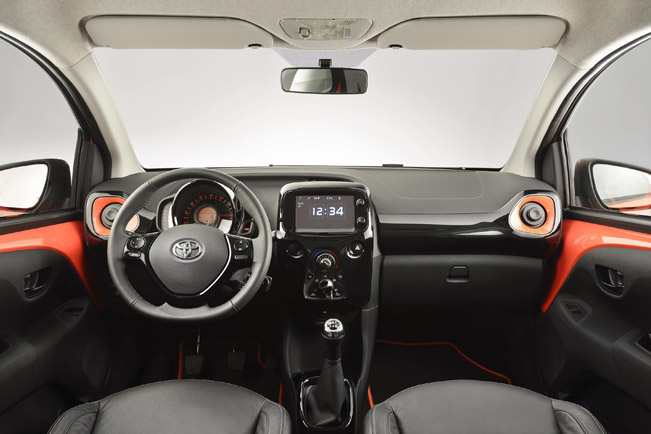 Inside one can see the trapezoidal centre console, new design for the air vents, door trims and gear shift surround. The console supports a wide dashboard with a matt, anti-glare finish; it features a meter made of up concentric rings and central multi-information display.
The wheelbase remains unchanged for the 2014 Aygo and is 2,340 mm. Despite this fact, the cabin is longer by 9mm, and features wider armrests to enhance the comfort. There's more room for luggage – additional 29 litres.
Toyota decided to make the model easily customizable. Optional features include X-shaped front grille, rear bumper insert, enhanced front bumper and alloy wheels, different design for the instrument panel, centre console, air vents, shift knob and gear lever surround. In addition, the brand is offering a choice of exterior and interior styling packs. 2014 Aygo will be fitted with x-touch multimedia system, operated using a fully integrated seven-inch touchscreen. This system is the first to come with a rear view camera as standard.
Furthermore, the car is driven by the three-cylinder 1.0-litre engine, which produces 68 hp (51kW) at 6,000rpm and 95 Nm (70 lb-ft) at 4,300rpm. The combined cycle fuel consumption here is estimated at 68.8mpg, while the CO2 emissions to 95g/km.
The engine will be mated to a five-speed manual transmission or optional new x-shift-automated manual transmission that can be used in fully automatic mode, or with manual gear selection using paddle shifts or the shift lever itself.
2014 Toyota Aygo Technical Specifications:
ENGINE
New AYGO
New AYGO (with x-shift)
Type
1.0 VVT-i
1.0 VVT-i
Fuel Type
Petrol
Petrol
Valve mechanism
4-valve DOHC
4-valve DOHC
Displacement (cc)
998
998
Bore x Stroke (mm)
71 x 84
71 x 84
Compression ratio
11.5:1
11.5:1
Max. power (bhp) kW @ rpm
(68) 51 @ 6,000
(68) 51 @ 6,000
Max. torque (Nm/rpm)
95 @ 4,300
95 @ 4,300
BRAKES
Front discs (mm)
247 x 20
247 x 20
Rear drums (mm)
200
200
SUSPENSION
Front
MacPherson strut
MacPherson strut
Rear
Torsion beam
Torsion beam
TRANSMISSION
Type
M/T
MMT (x-shift)
PERFORMANCE
Max. speed (mph)
99
99
0-62 mph (sec)
14.2
15.5
FUEL CONSUMPTION (subject to final homologation)
Combined (mpg)
68.9
67.3
Fuel tank capacity (l)
35
35
CO2 EMISSIONS (subject to final homologation)
Combined (g/km)
95
97
VEHICLE WEIGHT
Curb weight (kg)
840 – 890
855 – 910
Gross vehicle weight (kg)
1,240
1,240
EXTERIOR DIMENSIONS
Length (mm)
3,455
3,455
Width (mm)
1,615
1,615
Height (mm)
1,460
1,460
Front overhang (mm)
675
675
Rear overhang (mm)
440
440
Wheelbase (mm)
2,340
2,340
Drag coefficient (Cd)
0.29
0.29
Wheel Size (in)
14 or 15
14 or 15
Tyre size
165/65R14 or 165/60R15
165/65R14 or 165/60R15
INTERIOR DIMENSIONS
Interior length*
1,630*
1,630*
Interior width*
1,250 (3-door) 1,300 (5-door)
1,250 (3-door) 1,300 (5-door)
Interior height
1,205 (normal) 1,155 (canvas top)
1,205 (normal) 1,155 (canvas top)
Couple distance
806
806
Luggage space (l)
168
168
Source:  Toyota