Conquer Knight XV - A Horsepowered Bunker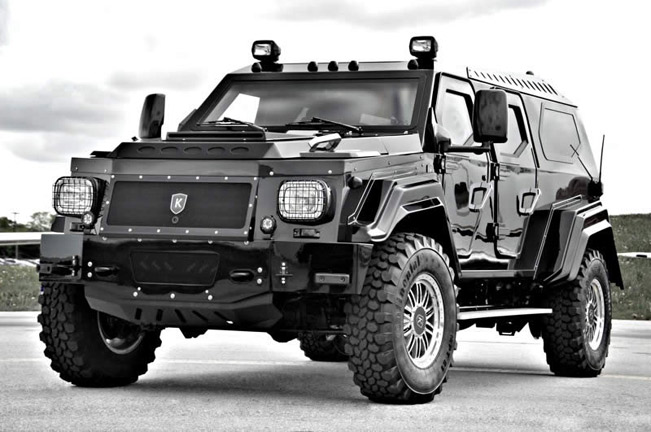 What you are looking at is the Conquest Knight XV – a cannonless tank sort to speak, an almost six-tonned chunk of Canada, "the future of the ultra-luxurious, handcrafted fully armored SUV". It's bio fueled as well...right.
Six meters in length, this thing is actually a Ford deep down inside. A Ford F550 Super Duty platform that's been heavily modified to be precise. That means that there's a 6.8-liter V10 Ford petrol engine hidden somewhere which produces 326 hp and 462 lbs of torque. Mildly impressive. Maybe more torque would do. That's where the turbocharged V8 Ford diesel engine comes into place as an alternative. The 6.7-liters of displacement in its case, generate merely 300 hp but the torque stands at 660 lbs. If at Conquest had managed to extract 6 lbs more, the final product would have been very symbolic. Either way, all of that power will come to good use as the Knight XV is properly armored – ballistic glass, a dose of aramid and ceramics composed opaque armor and a firewall as an option (that last thing won't save you from internet hackers but it does provide protection in between the engine and the passenger compartment). Other components that might add a few kilos include the 238-liter fuel tank, the 5-speed TorqShift automatic gearbox, and maybe the MPT Continental tires that measure at 335/80 R20.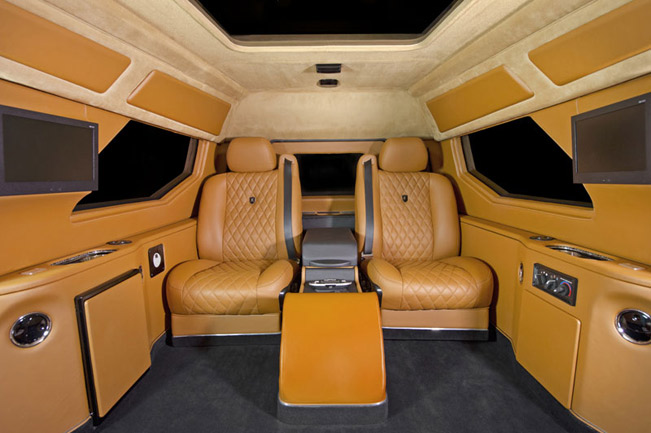 All of that being said, one should not expect the Knight XV to be as sophisticated as a WWII bunker. Inside you still get air-conditioning, an Alpine media system along with navigation and Bluetooth, leather seating for 6, laptop stations, a dual screen rear console and Wilton Wool luxury carpeting. On the roof, there's a rear-view camera, somewhere around the front, a night vision camera (the same goes for the back), tires that can take on severe AK-47 punishment and still roll at high speeds. And all of that is just a fragment of the standard equipment. The options list goes on – a flat screen TV with a satellite connection, an external listening device, an oxygen survival kit for the front and for the conference room at the back. The Knight XV even has smoke grenades on its sides and a black box should a crash occur between it and the moon.
Source: Conquest Vehicles