D2Forged Nissan GT-R In One-Of-A-Kind Matte Gold Exterior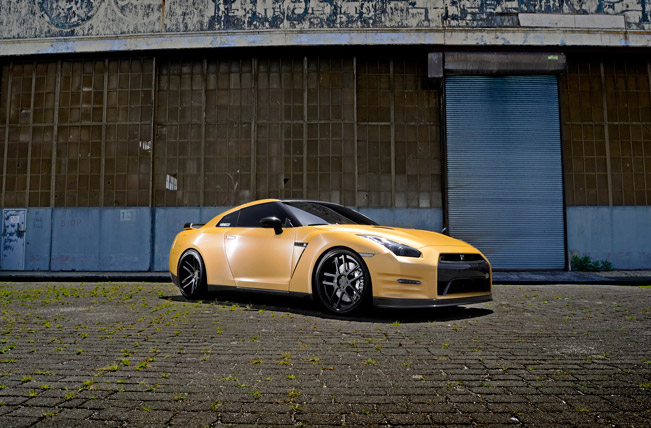 Everybody knows that Nissan GT-R is not an ordinary car. In fact, it is that special that it immediately grabs the attention when it appears masterfully on the road. In this case, the tuners at D2Forged Wheels have been given the task make even more exceptional this unique Nissan.
Following the example of the fastest man on the world - Usain Bolt, they decided to give the GT-R a full gold wrap, but unlikely Bolt's car, this particular on was decided to be matte. The wrap was delivered by Phenomenal Vinyl. What rounds off the exterior presence of the vehicle is the rocking set of lightweight D2FORGED CV8 Deep Concave Wheels. They come in sizes 21″ all around.
To go even further into details, this Nissan model hides under its hood 3.8-litre twin-turbocharged V6 engine, which delivers 550 horsepower (405 kW). The torque here is estimated at 632 Nm (466 lb-ft) at 3200 to 5800 rpm. The top speed is 315 km/h (196 mph).
These figures speak about fast acceleration from 0 to 100 km/h, which in this case is only 2.7 seconds, while the 100 – 200 km/h is measured at 8.89 seconds. The car is capable of covering ¼ mile in less than 11 seconds.
Source: D2 Forged Wheels