Dacia Logan Van
The introduction of the third vehicle of the X90 Programme, which will go on to feature a total of six vehicles within the framework of Renault Commitment 2009, not only forms part of the programme's ongoing development but also contributes to the group's international growth.
Logan Van slots in perfectly with the Logan Programme's overriding philosophy and, in addition to representing unprecedented value for money in its segment, meets the needs of customers looking for a basic, modern, robust and affordable van.
Renewal of the Dacia commercial vehicle range Logan Van marks both the modernisation of Dacia's commercial vehicle line-up in Romania and the expansion of this range on the international front. Logan Van will go on sale in Romania and Bulgaria in February 2007 before becoming available in other markets from the end of 2007.
Aimed essentially at small business owners, tradesmen and traders, as well as small and medium-sized fleets, Logan Van will permit Dacia to develop brand loyalty in Romania while opening up fresh opportunities in other markets.
Dacia's Pitesti factory in Romania also produces Logan Saloon and Logan MCV. The maximum production capacity of Logan Van is 200 vehicles per day. Logan Van is derived from Logan MCV and this has enabled the new model's development and production costs to be kept to a minimum. Production-related investments for the two models amounted to €110 million for a total outlay of €154 million. Logan Van benefits from the Renault Group's experience in the realm of commercial vehicles and, by associating this commercial vehicle engineering expertise with the best of what the X90 Programme has to offer, the new model combines commercial vehicle robustness with passenger car equipment levels. The Logan concept applied to the commercial vehicle world Like other vehicles in the Logan family, Logan Van has been developed for use in highly varied and often extreme conditions. It features the same simplicity and robust materials that have become a hallmark of the Logan range.
In Romania and Bulgaria, Logan Van is available with a choice of two petrol engines – the 1.4 MPI 55kW or the 1.6 MPI 64kW – or the 1.5 dCi 50kW diesel engine, all of which come from the Renault Group's powerplant range. Logan Van naturally benefits from the same level of active and passive safety as Logan MCV.
Logan Van also shares Logan MCV's design and volumes and, like the latter, features passenger car-style rear doors on all versions. These doors ensure wide access to the cargo area from both the left- and right-hand sides, unlike many of its rivals in the same category which permit access from one side only. Meanwhile, rear access is via 1/3-2/3 split asymmetric upright doors.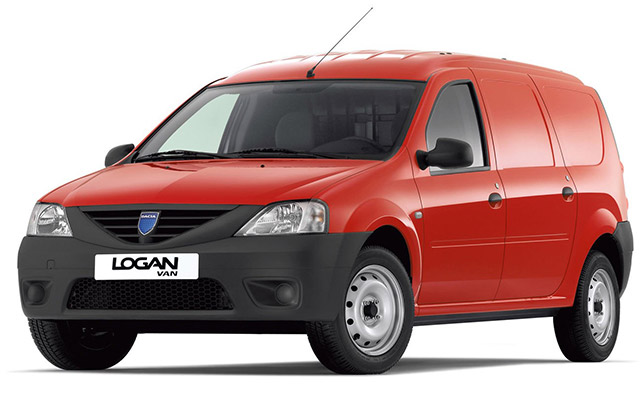 Logan MCV and Logan Van's body structure was designed from the outset with both the passenger car and commercial vehicle variants in mind. Its strength and rigidity were consequently engineered to stand up the sort of constraints associated with commercial vehicle use, without neglecting either comfort or handling performance. The structure notably permits a standard payload of 800kg which puts Logan Van at the top-end of the small van segment.
Logan Van features a maximum load-carrying volume of 2.5 cubic metres, while its overall length – up 200mm compared with Logan Saloon – permits a maximum cargo length of 1,936mm, an unprecedented figure for its category.
All these features are naturally available at an extremely attractive price, with tax-paid prices starting from €6,700 in Romania.