What happens when you power your BMW M2 with M4's engine?

Have you ever dreamt of substituting the ultimate BMW M2 Coupe's engine with a larger one? For example with the one used by the M4 model. What would happen? Well, we can stop imagining and see the results of the specialists at the tuning studio at dÄHLer, who have made exactly this.
The Performance Details & More …
Basically, the skillful Swiss BMW individualization company has fitted and installed the M4-engine into the M2 Coupe, and then updated the in-line six-cylinder M TwinPowerTurbo (S55) with 2.979 cubic capacity. The result: 540 HP (397 kW) and 989 Nm (730 ft-lb) of torque reached between 2,900 and 4,900 rpm; 0-100 km/h acceleration sprint in under 4 seconds; and a top speed of 320 km/h.
SEE ALSO: dÄHLer Releases BMW M235i Cabriolet with 390HP
But is there anything else done here? Yes. The agility of the car has been increased even more via coil-over suspension system, which was in-house made. It serves in terms of lowering, 18th level rebound and compression stage. In addition, dÄHLer has installed their well-proven 8-pistons-high-performance-brake-system, which features massive 400 millimeter brake discs. At the very end of the car we see a brand new stainless steel exhaust system, which was also built by the tuning company.
Anything New Around the Exterior & Interior Design?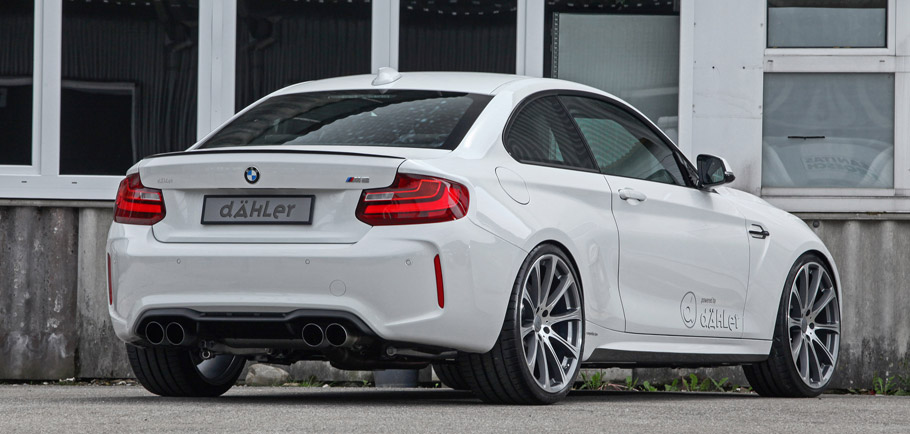 As you can see nothing much seems to be changed in terms of exterior appearance here. It looks like that the M2 is very close to the original series. However the aerodynamic, and in particular the contact pressure of the front axle, benefits from the modest and efficient front spoiler lip. An installation of a rear wing is optional. We have to also mention the dÄHLer CDC1 wheel, sized at 20-inches.
It is not much, but it is still impressive, isn't it? After all: the devil is in the details.
Source: dÄHLer Design