The Dark Knight Rises Nissan Juke Nismo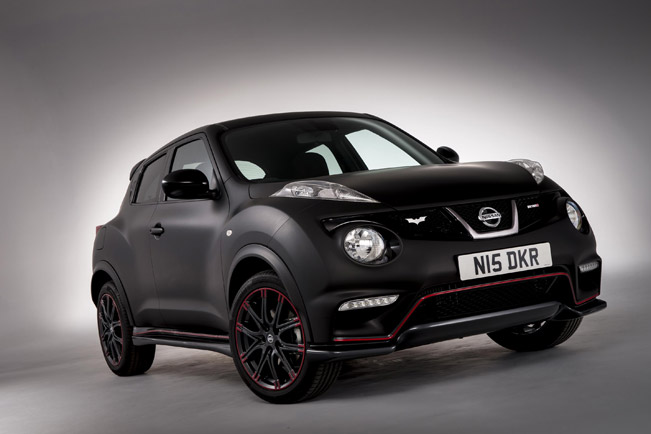 The Dark Knight Rises Nissan Juke Nismo is a special edition vehicle which celebrates the famous film and in particular the release of the the third film in Christopher Nolan's Batman trilogy on DVD and Blu-Ray. We have to admit that Nissan has produced a truly unique car.
It is called The Dark Knight Rises Juke Nismo and it is based on the popular Nissan model. It includes a host of Batman-inspired details. It is powered by the 200 hp (147 kW) 1.6-litre turbocharged engine driving the front wheels through a six-speed manual gearbox.
The sprint from zero to 100 km/h therefore is achieved in 7.8 seconds. The vehicle also includes Nismo's bodykit, uprated suspension and enhanced interior. Furthermore, the matt black paint gives a menacing look reminiscent of Batman's Tumbler, while a shark fin antenna replaces the standard car's conventional aerial. Aluminium Bat badges adorns the front grille and tailgate.
On the other hand the unique vehicle will ride through the streets on gloss black 18-inch alloy wheels which include bespoke red detailing. The latter goes along perfectly with the eyecatching pinstripe on the bumpers and sills of the standard Juke Nismo.
The interior is all about the Batman theme again: Bat logos on the kickplates and reflective Bat badges on the headrests of the suede-trimmed Nismo sports seats are immediately seen. In addition, the downlighters mounted under the door mirrors the famous Bat signal can be projected onto the floor area around the doors.
All in all The Dark Knight Rises™ Juke Nismo includes the following:
Matt black paintwork
Aluminium Bat logos front and rear
Shark fin antenna
Black 18-inch Nismo alloy wheels with red detailing
Uplighter that projects Bat symbol on headlining
Downlighters in door mirrors to project Bat symbol on floor area by doors
Reflective Bat badges on front and rear headrests
Door sills with Bat logos
Source: Nissan