Debut Of Toyota GT 86 TRD Griffon Project At Goodwood [VIDEO]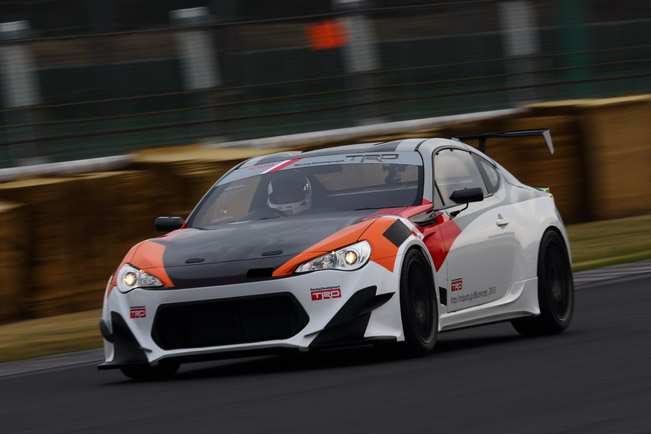 Toyota has just returned to Goodwood Festival of Speed with it's the pure-bred racing model - the GT 86 TRD Griffon Project. The car was revealed exactly a month ago, now its making its public debut, and next – it will be unveiled at the 2013 Tokyo Auto Salon, making a Japanese premiere.
TRD Griffon Project is a development of the GT86 which has a design orientated specifically for track driving. The modifications made are reduction of car's weight, strengthening of the chassis and introduction of racing-specification TRD accessories.
The body shape is kept as the original GT 86, however the Griffon Project features bonnet, roof, doors, boot lid and rear wings made from lightweight carbon fibre. Additional weight is saved trough the utilization of carbon fibre reinforced plastic for the bumpers, wider front wings and rear diffuser. Instead of glass, the engineers and designers of the project have used polycarbonate material for the windows.
Inside the vehicle, one can see a TRD driver's bucket seat, gear shift knob, ignition button and oil pressure and water temperature gauges. There are also included Momo steering wheel and Takata seatbelts.
Furthermore, there have been made many enhancements on the components of the car. For example, the standard Torsen limited-slip differential has been substituted by TRD mechanical LSD. In addition suspension has been significantly reinforced via a coil over suspension kit. The final gear ratio has been shortened to 4.8:1.
Other performance-related changes feature an oil cooler for the engine and a TRD mono block brake calliper kit with racing spec brake pads. Toyota GT 86 TRD Griffon Project sits on TWS 18-inch wheels matched with Yokohama Advan tyres.
Video Source: YouTube
Source: Toyota