Toyota GT 86 Sedan [render]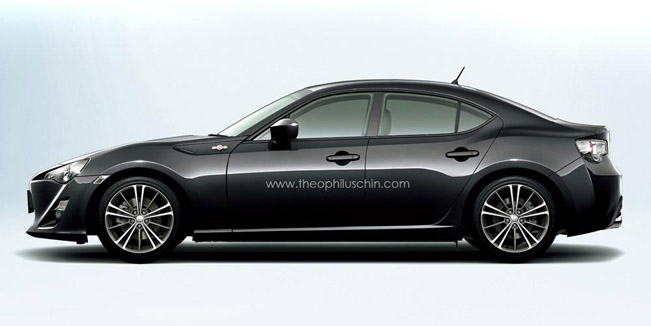 Theophiluschin published some renderings of Toyota GT 86 Sedan. The four-door version is allegedly close to production series. The four-door GT 86 will have a 100 mm extended wheelbase and could be exhibited at the 2014 Geneva Motor Show.
We expect the same 2.0-liter boxer engine with 200HP (147 kW) and 205Nm (151 lb-ft) with fuel economy of 7.8 litres / 100km for manual models – and even better for automatic versions at just 7.1 litres / 100km.
Probably, there will be an optional hybrid model derived from the Yaris Hybrid-R Concept boasting 272HP (200 kW) and a KERS system similar to this one used for F1 cars.
Stay tuned!