2013 DMC Bentley Continental GTC DURO Officially Revealed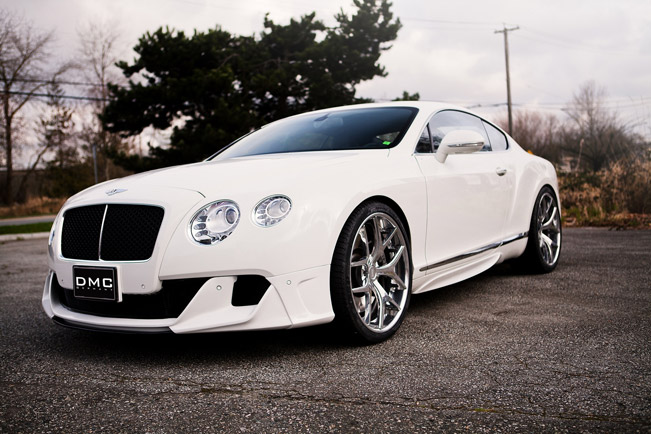 2013 DMC Bentley Continental GTC DURO has been teased last week when a teaser image has been released. It showed the spectacular front fascia of the DURO. DMC has put a special attention to the detail and high quality in this particular project. It has enhanced the design in general thus giving the Bentley more aggressive appearance.
The unique coupe received a DMC style carbon fiber body kit, new wheels and an exciting performance upgrade. To be more precise the carbon fiber front bumper has been entirely redesigned and extends the car with 2 inches.
Day-Light LED's additionally improve the front fascia, while on the side skirts were added elegant carbon fiber wing-lets that not only improve the aerodynamics, but also add a fresh element to the cars overall look.
Furthermore, the carbon fiber is to be found at the rear bumper as well and it might be considered as the most significant part of the DURO. Here, the separate carbon fiber diffuser adds under rear fascia not only support for the aerodynamics, but also a stronger look to the car. The appearance is rounded by the carbon fiber rear spoiler.
In addition, the engine was also optimized and now delivers 672 hp (494 kW). This was achieved through the titanium exhaust, Sport Air Filters and an optimized Electronics. The Newton Meters were raised up to 780 Nm (575 lb-ft) pushes. The enhanced unit helps the Continental accelerate from 0 to 100 km/h in just 4.5 seconds and enables new top speeds of up to 325 km/h.
2013 DMC Bentley Continental GTC DURO runs on diamond-forged rims in 10x22" size fitted with 295/25/22 tyres. What is left is the interior, which is also modified. Inside, the coupe brings together a fireworks of sins and pleasures: Carbon Fiber, Fine Italian Leathers and other rare materials exclusively hand-crafted for each customer.
Source: DMC