DMC Shows Tuned Lamborghini Aventador LP700-4 Roadster SV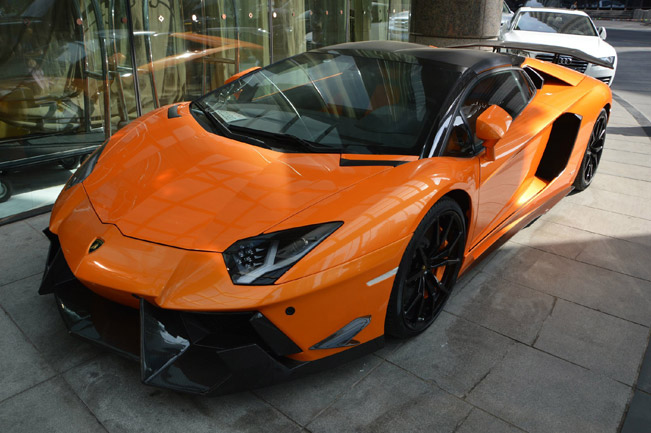 DMC is probably one f the most famous tuning brands that modifies mainly Lamborghinis. For instance one of its initial kits was MV or Molto Veloce which was installed so far on up to 50 V12 Aventadors. Its evolution, the SV or Spezial Version kit is now being on trend and is going to be made only 10 times.
The first rule for obtaining the SV kit is that the customer must have installed firstly the MV kit. DMC actually wants to avoid installing this impressive Spezial Version on two cars that are similar, or even in the same part of the world. In fact, not a single one of the 10 DMC Aventador SV will look the same.
The present case of photos and information concern such lucky customer, who has obtained the highly limited DMC Spezial Version aerodynamic kit. The latter was installed on a bright orange metallic Lamborghini Aventador LP700-4 Roadster.
The Lamborghini is finished in the rather expensive option of pearl metallic Arancio Argos and includes a two tone Bicolor Sportivo interior combining Nero Ade with Arancio. The sportscar runs on Dione wheels that are in sizes 20 and 21 inch to the front and rear respectively, and cover orange brake calipers.
The owner also had installed front and rear parking sensors together with the rear view camera. The vehicle was taken to the next level with a complete DMC Spezial Version aerodynamic package. It features a carbon fiber front bumper with upright fins on either side, which include the horizontal 'V' shaped canards, clear carbon fiber DMC side sills mounted underneath the original Aventador units, lower rear diffuser, rear bumper and rear fascia between the air vents up to the taillights, SV style rear wing all made from carbon fibre.
Source: DMC