2014 Dodge SRT Viper Stryker Green Debuts At Detroit Auto Show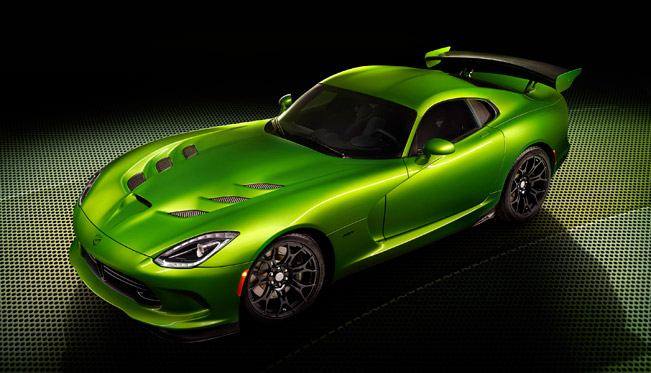 2014 Dodge SRT Viper gets a new Stryker Green and definitely looks amazing. The car was just shown for the first time at the North American International Auto Show in Detroit. As a matter of fact, the new "Stryker Green" is a tribute of the iconic Snakeskin Green exterior color. The latter was introduced in 2008 and featured enhanced green and yellow pigments and a "liquid mercury" appearance.
The brand revealed that the application of the new exterior paint is a very detailed and intricate process and it takes eight hours to complete. The initial step in it begins with a base color coat followed by a green-tinted mid-coat and finishes with a clear finish. The result is that the paint additionally brings out the depth and curvature of the Viper's exterior design.
This makes the color the perfect choice for those who want to take make their SRT Viper more exclusive and dramatic. Another debut which we see on this Dodge model is the Grand Touring (GT) special package. It includes Nappa leather seats, five-mode Electronic Stability Control and the two-mode Bilstein DampTronic Select suspension.
What is more, the shown Viper at the show has been Moparized with lightweight carbon fiber components with an exposed carbon fiber performance X-Brace. The result is almost 50 percent weight savings, but at the same time with the same strength and functional stiffness as the production version.
Furthermore, a prototype aero package has been fitted to the show car with a Mopar carbon fiber rear wing and extended front corner splitters. SRT will limit the GT option package only to the new Stryker Green and Venom Black exterior colors. Stryker Green exterior color will be offered on Viper GTS and SRT from this February.
Source: Dodge