Dodge Introduces 2014 SRT Viper Time Attack Special Edition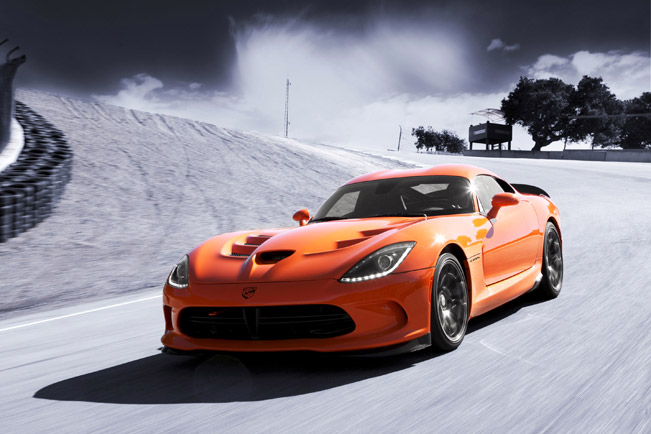 2014 Dodge SRT Viper Time Attack Special Edition is specifically built for those keen on performance oriented machines. The model is based on the current 2014 SRT Viper model but includes a TA (Time Attack) Special Edition Package.
The latter enhances vehicle's ultra-low center of gravity and 50/50 weight distribution via chassis parts developed specifically by Dodge's SRT team. Of course the aim is to get the most out of the race-car-like chassis.
As a matter of fact, the SRT engineers developed new spring rates, dampers, sway bars and brake components, which were later combined with vehicle's Advanced Aerodynamics Package. The latter comprises of carbon fiber front splitters and rear spoiler to boost downforce at higher speeds. In addition, the brake system was also updated in order to deliver better balance and to resist thermal saturation during track work.
To go even further into details, the key high-performance equipment for the 2014 SRT Viper TA Special Edition includes unique race-tuned calibration for the two-mode Bilstein DampTronic suspension system, retuned springs, shocks and road-racing derived sway bars; lighter, carbon fiber structural X-brace that contributes towards 50-percent increase in torsional rigidity and stiffness across the Viper lineup; new Brembo two-piece, 32-millimeters wide, high-thermal capacity rotors and pads matched with the Advanced Aerodynamics Package.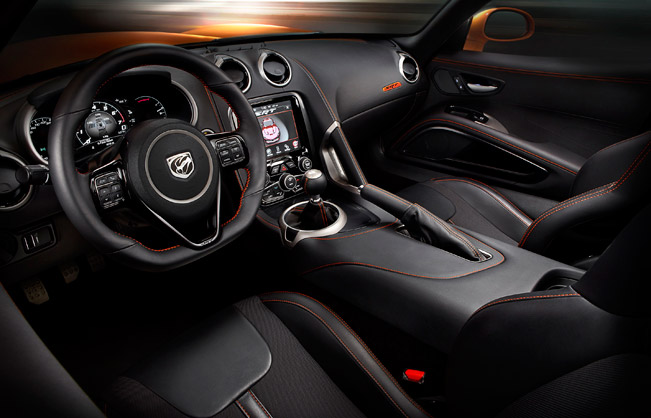 This special edition Viper runs on standard Pirelli P Zero Corsa tires wrapped around the ultra-lightweight, multi-spoke Sidewinder II wheels. The brake calipers include a black anodized finish with the Viper logo shown in TA Orange.
A visible highlight on the rear is a carbon fiber applique that accentuates the rear width proportions and adds another level of detail. Under the hood this performance machine hides handcrafted, all-aluminum 8.4-liter, mid-front V-10 overhead-valve engine. The unit is capable of delivering 640 horsepower (470 kW) and 813 Nm (600 lb.-ft.) of torque.
The interior of the car is also performance-oriented and sports premium ballistic fabric racing seats from Sabelt and lightweight fiberglass shell. Both driver and passenger seats can also accommodate a 3- or 6-point harness for racing belts.
As a standard, the interior is finished in black. However, it has some contrasting accents such as orange stitching on the cloth seats, instrument panel, center stack, console, pull brake, shifter boot, shifter head, steering wheel and upper doors. The curb weight of the car is measured at 3,390 pounds.
2014 Dodge SRT Viper Time Attack Special Edition will begin to arrive at dealerships in the fourth quarter of 2013.
Source: Dodge