Edo Competition Enhances Porsche 991 Turbo S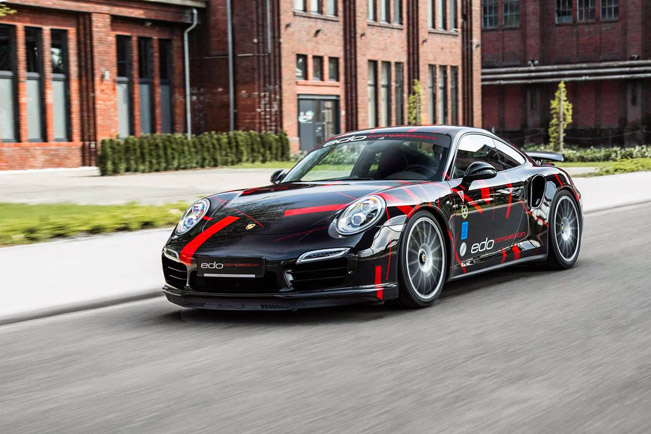 Edo Competition Porsche 991 Turbo S is simply exceptional! It combines the highest functional quality, perfect craftsmanship and an accomplished design in one form. For the new 2014 Porsche 991 Turbo and the Turbo S models, Edo Competition has developed an exclusive tuning programme. The result is a more individual car that has enhancements regarding the exterior, interior, chassis and engine. Edo Competition has developed sports shocks provide for even more sporty driving pleasure. They can also enable a lowering of the chassis by up to 30 millimetres.
Furthermore, a completely redeveloped, one-piece and ultra-light forged wheel set delivers both functionality and sporty elegance. At the front the car is fitted with 9.0 x 20 wheels that were matched with 245/35R20 tyres. At the rear axle, the wheels come in the size of 11.5 x 20 ET45 coupled with 305/30R20 tyres.
More importantly, a performance kit was installed, which raises the horsepower of this Porsche. Thanks to it, the 991 Turbo S delivers 590 hp (434 kW) and a maximum torque of 780 Newton meters (574 lb-ft).
Of course these numbers can speak of a stunning acceleration time. The modified Porsche covers the sprint from 0 to 100 km/h in only 2.8 seconds. In comparison, the production model covers it for just 3.2 seconds. The top speed has been raised from 318 km/h to 327 km/h.
This car has a brute sound, which is being developed through the newly designed sports silencers with tri-alloy catalyst converters. They are made completely from stainless steel. Other design enhancements feature new grille sets, enameled brake calipers and individualized interior.
Source: Edo Competition