EXCLUSIVE: Magnum MK5 Revealed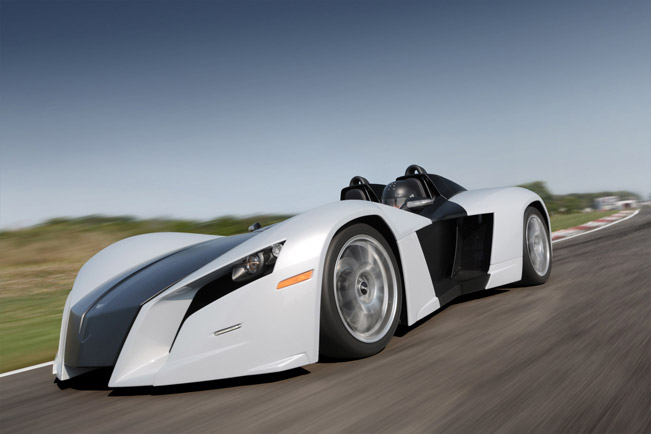 Magnum MK5 which was teased couple of times in the past weeks is now fully revealed. The vehicle is the first track-focused street-legal lightweight supercar produced in Canada.
MK5 has the goal to offer an unforgettable and unique driving experience similar to a one that a real racecar can deliver. For this reason the sportcar was equipped with engine which delivers 250 horsepower (183 kW). It also was put through a completed its development program, including 3 years of extensive track testing.
The open-top Magnum MK5 is not only fast it also includes a cargo compartment that can easily accommodate two race helmets and a briefcase. It also includes full lighting and reverse camera, which reflects the MK5's dual personality.
As one can see from the revealed pictures, the car has bold and dramatic design. It has sleek proportions and aggressive on-road stance. In addition, the car's development offers both easy adjustability and maintenance.
What propels Magnum MK5 is the 250hp rear mid-mounted 4-cylinder engine mated to a 6 speed sequential gearbox. The latter delivers very fast shifts, up and down, while the perfectly positioned center-mounted shifter lever provides a level of involvement for the driver. Combined with a limited-slip differential, MK5 provides effortless acceleration.
Furthermore, other advantages that need to be mentioned here formula racecar type pushrod suspension geometry, with front and rear inboard 2-way adjustable dampers. The car runs on high performance street-legal tires in the format 225/40R18 at the front and 265/35R18 at the rear, mounted on 18-inch ultra-lightweight alloy wheels.
The impressive braking performance is ensured by a rear 4-piston calipers and vented brake discs. The ingenious sliding pedal box, completely custom machined out of aircraft-grade billet aluminum, provides easy adjustability from a simple locking lever, to accommodate drivers of different heights.
The theme of the bold exterior styling is continued in the vehicle's cockpit where a modern look mixes with purposeful ergonomics. There one can see designer-worthy CNC machined aluminum levers, race-inspired carbon fiber seats, 6-point racing harnesses for the driver and passenger.
The pre-orders for the car are already being taken, and it will be built on order at an initial annual production rate of 20 cars. Deliveries are projected to start by late 2014. Magnum MK5 has a starting price of $139,000 USD.
Magnum MK5 Specifications:
PERFORMANCE
Power-to-weight ratio: 460 bhp per tonne
0-100 km/h (0-60 MPH): 3.2 second
Maximum speed: 240 km/h (150 MPH)
Handling: Over 2Gs of lateral force
ENGINE & TRANSMISSION
Type: 4-Cylinder
Power: 250 bhp
Redline: 11,000 rpm
Configuration: Rear mid-mounted, rear wheel drive
Transmission: 6-speed sequential gearbox with reverse
Differential: Limited-slip
TECHNICAL
Bodywork: Carbon-fiber composite, easily removable front and rear sections.
Functional aerodynamics: Internal front wing, front splitter, flat underbody, rear diffuser
Cargo area: Fits two helmets and a briefcase
Fuel tank capacity: 35 liters
Fuel filler: Lockable billet aluminum
Length: 3,914 mm (154.1 in)
Width: 1,884 mm (74.2 in)
Height: 1,069 mm (42.1 in)
Dry Weight: 1,200 lbs (545 kg)
SUSPENSION
Type: Adjustable pushrod activated, double unequal length a-arms, front & rear
Dampers: Inboard, two-way adjustable, front & rear
Anti-roll bars: Adjustable, front & rear
WHEELS & BRAKES
Tires: Ultra-high performance, road-legal, 225/40R18 front & 265/35R18 rear
Wheels: 18", ultra-light alloy, front & rear
Brake calipers: 4-piston calipers, radial mount, front & rear
Brake discs: Ventilated discs, with CNC-machined aluminum hubs, front & rear
Brake bias: Cockpit adjustable
Pedal box: Custom CNC-machined hand operated sliding adjustable
INTERIOR
Gauges: Steering wheel mounted backlit digital dash-display, with integrated laptimer and data acquisition system
Steering wheel: Weather resistant suede, with quick release
Seats: Carbon fiber composites
Harness: 6-point, racing-type
Accessory: Rear-view monitor & camera
Source: Magnum