Fiat 500L Vans Concept Shown At Huntington Beach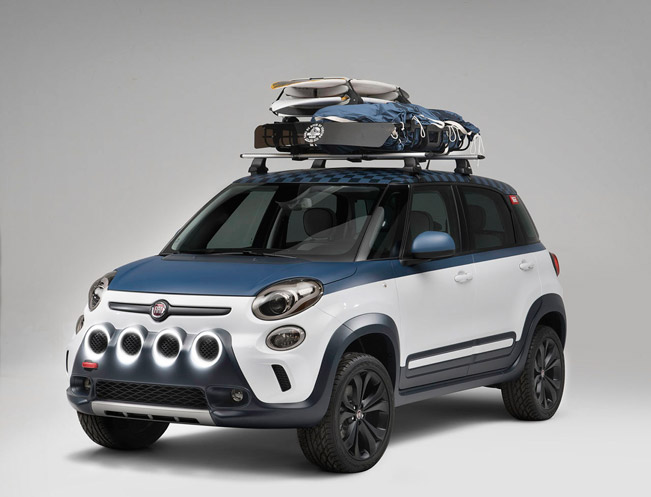 Fiat 500L Vans is a design concept which is currently on display at Huntington Beach in California. The company has once again teamed up with the Vans US Open of Surfing and the result is this unique 500L. The attendees at the stand will also see and interact with the full Fiat portfolio. This means that they will enjoy the models such as the Fiat 500 Abarth Cabrio, the 4-door 500L Trekking, and the electric Fiat 500e. The visitors will also have the chance to receive giveaways like Wayfarer sunglasses, branded shoelaces as well as other branded items.
The special Fiat 500L Concept is inspired by Vans and has been exclusively designed and created for the event. The car matches the spirit and playfulness of both teams. The grille of this concept vehicle has four rings of LED headlights which are also open in their centers. Underneath them is mounted couple of fog-lights.
Furthermore, the Vans Concept is decided in three-tone color scheme. The dark blue color can be seen along car's bottom. The white paint finish has been used for the biggest part of the body, while the light blue shade is used for the hood. The last color can be also seen on the tops of the doors as well as the mirror caps.
Checkerboard pattern which is something iconic for Fiat has been utilized for the roof. In addition, at the top of the car there is a rack added to support two surfboards and additional gear. Inside, the interior is literally Vans inspired, due to the extensive use of company's stickers added on the dashboard. The seats are made from canvas, while the waffle sole tread pattern is utilized for the pedals and storage bins.
This concept is driven by the 1.4-liter turbocharged four-cylinder engine which produces 160 horsepower (118 kW). It is coupled with a six-speed manual transmission.
In addition to the vehicles on the sand, the brand's popular water-bound FIAT-skis will be back surfing the waves of Huntington Beach. At the event, the professional surfer Brianna Cope will be signing autographs. 2014 Vans US Open of Surfing is running till the 3rd of August.
Source: Fiat