Fiat 500X Rainbow with Special Mission in Detroit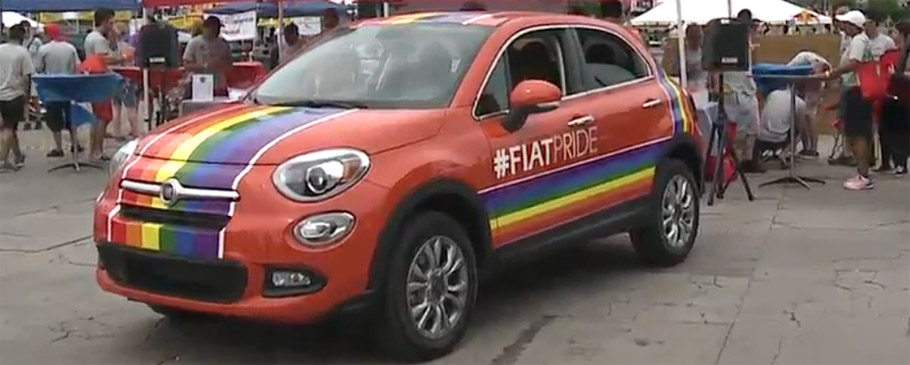 Fiat 500X Rainbow is a special edition of FCA's supermini, which has been created for a special purpose and has a special mission. Since Fiat brand is a key sponsor of Motor City Pride parade and festival in Detroit, it decided to support the event with one-off 500X edition, dressed in red and carrying the colors of the rainbow. The six colors, red, orange, yellow, green, blue and purple, have been applied starting from the front, covering the front bumper and grille, and continuing onto the roof and ending at the rear.
The lower parts of the two doors have been also given the rainbow treatment as well as those parts up of the rear wheels. The mission: the specially wrapped all-wheel-drive 2016 Fiat 500X, lead many of Michigan's 300 same-sex couples, as grand marshal of the Motor City Pride parade.
SEE ALSO: Fiat Releases a Specia Ægea Model
As a long-time supporting sponsor of the festival, Fiat also celebrated its longstanding commitment to LGBT employees, communities, customers and issues for its fourth consecutive year. In fact, FCA US also supports anti-discrimination law prohibiting discrimination because of sexual orientation or gender identity.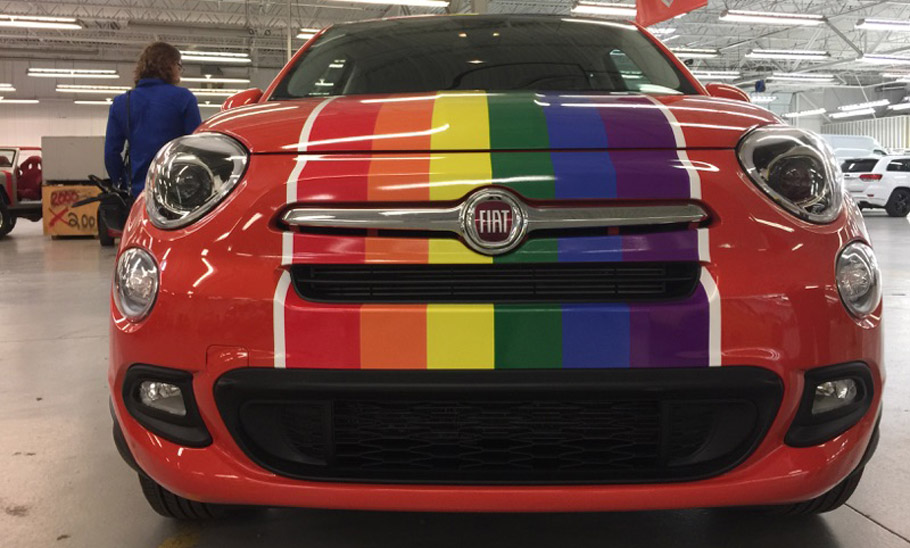 2016 Fiat 500X is company's fist 500 model offered with all-wheel drive. In its engine range there are four petrols and three diesels. Precisely, the front-wheel drive, petrol-powered models are either equipped with a 110 hp (81 kW) 1.6-litre "E-torQ" engine mated to a five-speed manual gearbox or a 140 hp (103 kW) 1.4-litre Turbo MultiAir II petrol engine with either a six-speed manual or a six-speed twin-clutch transmission.
Speaking of the all-wheel drive petrol models, they are powered by the 170 hp (125 kW) 1.4-litre Turbo MultiAir II engine or the 184 hp (135 kW) 2.4-litre Tigershark engine. Each of them is mated with a nine-speed automatic transmission as standard.
The diesel range comprises of 95 hp (70 kW) 1.3-litre MultiJet II turbo diesel with five-speed manual, and 120 hp (88 kW) 1.6-litre MultiJet II turbo diesel equipped with a six-speed manual gearbox. The four-wheel drive diesel unit is the 140 hp (103 kW) 2.0-litre MultiJet II turbo diesel, with either a six-speed manual or nine-speed automatic transmission.
Source: FCA