An Adventure: Fiat Panda 4x4 Antartica From Turin To Sochi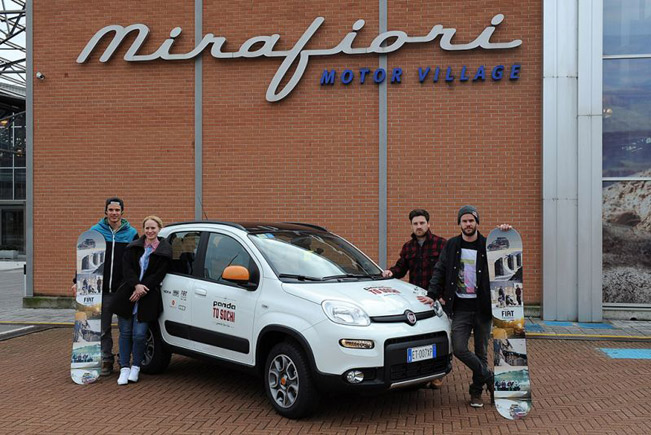 The "Panda to Sochi" project is happening right now as we speak. Fiat, in collaboration with Vice Media and a couple more sponsors, is sending a team of four to Casa Italia, Sochi (Russia) in a Panda. That is, Fiat Freestyle Team riders Stefano Munari - star of Italian snowboarding - and Stefan Lantschner, a BMX talent from the Alto Adige area, together with Markus Keller, the famous Nitro team rider who will take turns with Dmitri Sartor during the trip. Gersin Livia Paya, editor of Vice completes the quartet.
Before their final destination, the team will stop by in 16 different European locations. They will shed some light on the diverse cultures along the way. A team of photographers and videomakers will also join in, immortalising the crew's tricks and manoeuvres at characteristic landmark sites such as Dracula's castle in Transylvania, the Potëmkin Stairs in the Ukraine, or Mont Blanc and Lake Geneva.
The Fiat used is no ordinary Panda as well. It's a 4x4 Antartica special edition. It carries a TwinAir Turbo 0.9 petrol engine which yields 85 hp. Antartica specific features include a white and black roof, 15-inch alloy wheels in grey diamond finish, orange hub caps, fog lights, tinted rear and back windows and a badge on the cnetral pillar that serves as an identifier. 175/65 R15 84T M+S Winter Snow Flake tires go on all four wheels as standard – good not only for snow and ice but also dirt roads and general low-grip surfaces. A lot of software also ensure save travels: a torque on demand drive system, an Electronic Stability Control, and an Electronic Locking Differential
Inside, the Antartica showcases an overwhelming theme of orange and grey fabric (most of it eco-leather). A 3-seater rear seat with 60/40 folding backrest and height-adjustable driver's seat offers adequate comfort and versatility.
The team team should also arrive in Sochi with their spines intact since the Antartica sits on a revised MacPharson independent suspension at the front and a interconnected wheel with torsion beam at the rear.
Source: Fiat