2013 Fiat Panda 4x4 debuts in Paris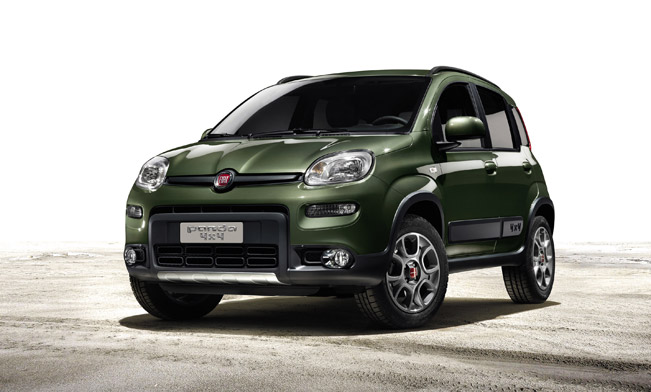 2013 Fiat Panda 4x4 is the only A segment four-wheel drive model, which is going to make its first world appearance at the international Paris Motor Show. This third-generation four-wheel drive Panda is the perfect interpretation of the heritage of the emblematic car, and now offers great off-road capabilities with a refined design and efficient architecture.
The new Fiat model is with five doors, 368 centimetres long, 167 centimetres wide and 160 centimetres high. The designers made the car with purely functional design features, and added small details which express sophisticated multifunctional mini SUV.
The strong presence this car conveys is thanks to the geometric lines of the front and rear bumpers. In addition, the tailpipes follow the lines of the body thus offering complete protection for the lower part of the car.
Furthermore, the existing color palette range is now further enhanced by two new colors: Sicilia orange (pastel) and Toscana green (metallic).
The interior of the new Panda adds new styles as well. Some important innovations were included: a new green fascia variant framing the instruments and the large storage pocket, fabric seats with a special design in three color variant (green, beige, orange) and eco-leather details, front and rear door panels also with eco-leather inserts and a high console over the central tunnel.
One of the important highlights around this new model is the "Torque on demand" transmission system. It comes with two differentials and electronically controlled coupling. In particular, this is a permanent four-wheel drive system which is monitored by an electronic control unit.
The latter analyses vehicle signals, distributes traction on the front and rear axle homogenously and proportionally according to road grip conditions. And why it is beneficial? It is because it allows entirely automatic operation and no maintenance.
Moreover, as a standard the Panda 4x4 includes the ESC (Electronic Stability Control) system with ELD (Electronic Locking Differential) function. What it does is basically to provide more assistance while driving and setting off uphill on slippery terrain.
Next, Start&Stop function is featured in both two engine versions. They are namely the new 85 hp (63 kW) 0.9 TwinAir Turbo and the 75 hp (55 kW) 1.3 MultiJet II diesel. They are mated to a six-speed gearbox.
The suspension system here is also unique. It ensures all typically 2WD features such as passenger comfort, handling, road hold and safety, and at the same time delivers better characteristics for tackling any type of terrain.
An independent MacPherson arrangement at the front was engaged as well as an interconnected wheel with torsion beam layout at the rear. This means that the rear suspension is now lighter and offers better ride and acoustic comfort.
The equipment featured in the car is more than satisfying. It includes ESC system with ELD, manual climate control system, CD/MP3 radio, 15" burnished alloy rims, 175/65 R15 M+S tyres, electric rear-view mirrors, central locking system with remote control and rear head restraints. A vast range of optional equipment and accessories is also available.
Source: Fiat