The Amazing Flying Huntsman 110 WB 6x6 Concept Lands in Geneva [VIDEO]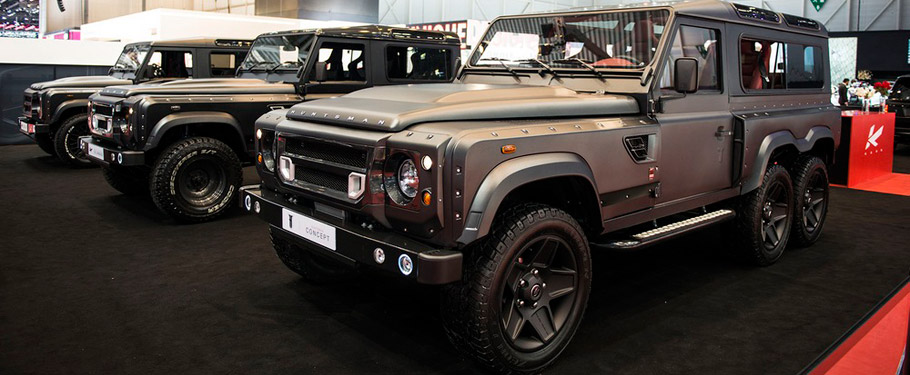 Last week we have promised to give you more information about a very special vehicle called the Flying Huntsman 110 WB 6x6 Concept. This unique project is made by Kahn and it is based on the Land Rover Defender. Three examples of the six-wheeler were revealed at the Geneva Motor Show. And what we basically see is the redesigned front grille and bumper as well as a square sectioned wide arch body kit.
As we have reported previously, the limited edition car has additional 400mm extension to the bonnet, while there is 1000mm (and not 800mm as we stated) extension to the rear cabin. In addition, the width has been increased by 150 mm. The same happened to the windscreen rake.
Under the hood of the Huntsman sleeps the powerful 6.2-litre GM LS3 V8 engine which is coupled with a six-speed automatic gearbox and delivers up to 430 horsepower (317 kW). Braking and suspension have been also upgraded and what rounds out the changes in terms of engineering is the quad crosshair exhaust system.
Furthermore, Huntsman Concept can be transformed into B4 and B6 armored variants. There are also several potential engine options like the V8 Ford Coyote and V8 Ford XS, intended for those wanting more power and torque.
The CEO and Creative Director of Kahn Group said that it is a pity vehicle like the Defender to retire. For this reason his aims were focused on creating a concept which is fashionable, iconic and revolutionary. And he did.
Video Source: YouTube 
Source: Kahn Design