Flying Huntsman 110 WB 6x6 Concept Debuts in Geneva! Go See it!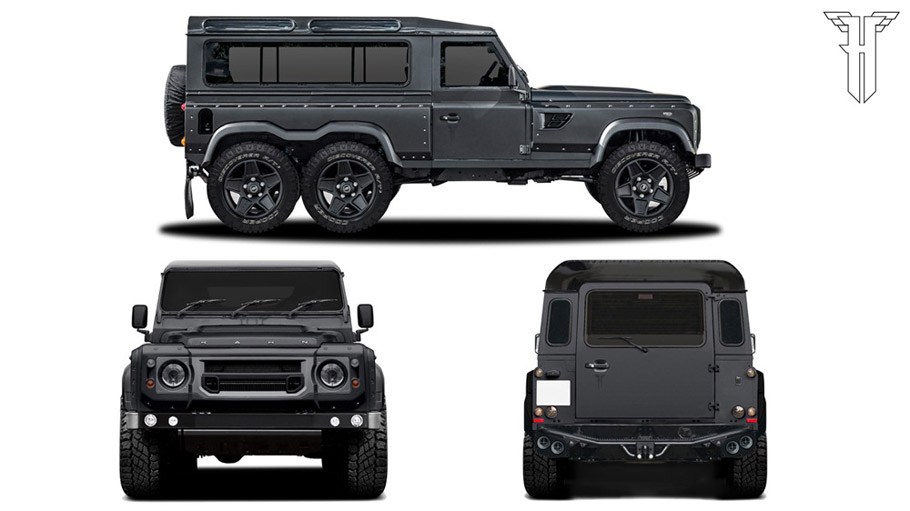 Geneva Motor Show is around the corner and so is Kahn's long-awaited project called the Flying Huntsman 110. It is no secret that the prototype will be officially revealed at the event and for this reason the tuner has sent us one last picture and some detailed information ahead of debut. The WB 6x6 coach-built concept is based on the Land Rover Defender 110 and also carries a codename "Mission 1".
Will this concept challenge the rest of the automotive world - it is still a mystery, but it is definitely intended to do so. To proceed with the details, it is now official that the 6.2-litre GM LS3 V8 engine under the hood of the Huntsman will produce exactly 430 horsepower (316 kW). And this is pretty impressive since it is far more in comparison to the original.
All this power will be transmitted onto the road via a six-speed automatic gearbox that has a tap shift control. Furthermore, Kahn Design has strengthened the off-road capabilities of the Defender, making it capable of managing even the roughest terrain. This is due to the rugged heavy duty chassis, the updated braking and suspension systems as well as the hi-lo ratio drive system and locking differentials.
There have been some substantial changes to the exterior that make this project unique.
Extensions to the bonnet measure 400mm, while these to the rear cabin – 800mm.
The vehicle has been also widened by 150mm, and these numbers actually make me want to see this vehicle for real.
This masterful appearance will be further supported by increased windscreen rake and wider rear door. Changes have been applied to the front doors too, which are now longer and allow easier entry.
In addition, the added panoramic roof starts from the B pillars and continues until it reaches the rear. The other exterior styling tweaks is said to be inspired by Kahn's Chelsea Truck Company Defenders so this is a good reason to expect aggressive and striking appearance.
More importantly, the tuner is making plans for producing the Huntsman in up to five potential variants featuring four and six wheel versions. There are is also the option of making it not only a hard top but also a pickup, depending on customers' response.
If these details aren't enough for you, then you will definitely have to wait until next week, when Kahn is promising to give us the full details of the concept. Stay tuned!

Source: Kahn Design