FolienCenter-NRW Mercedes-Benz C63 AMG In Matt Bond Gold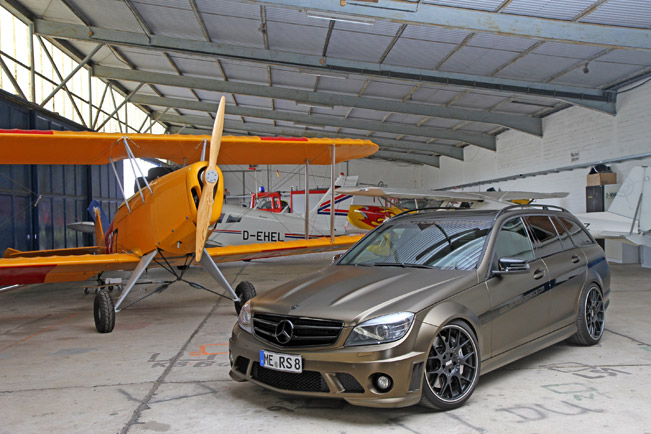 FolienCenter-NRW Mercedes-Benz C63 AMG looks amazing due to the modifications done on it in terms of exterior- and power-related characteristics. The project is a result of the work of two tuning companies. For the foiling took care the specialists at FolienCenter-NRW, while the tuners at SR-Performance were responsible for the adequate technical upgrade.
The factory 6.2-liter V8 engine of the C63 AMG produces 457 horsepower (336 kW). Using air filter inserts from BMC as well as Milltek racing catalytic converters with pre-catalytic converter replacement pipe and a complete reprogramming of the engine software, SR performance professionals enhanced the power of this Mercedes-Benz up to 540 horsepower (397 kW) and the maximum torque to 665 Nm (490 lb-ft).
In addition, they have added Bilstein B16 PSS 10 coilover kit and a set of high grade and super light BBS CH-R wheels. The latter are in the format of 8.5x19 inches at the front, and 9.5x19 inches at the rear, and coupled with Continental Sport Contact 5 tires of the size 235/35R19 and 265/30 R19 for the front and rear respectively.
The optical tuning was done by FolienCenter-NRW. The car-wrapping experts endowed the bodywork with a perfectly worked complete wrapping in "Matt Bond Gold Metallic" from the PWF portfolio.
As a contrast to the gold wrapping, a glossy black foil was applied on the roof, roof luggage rails, the door handles and the shadow line optics. A classical black paint was utilized on the radiator cowling including the Mercedes star, the external mirrors and the covers around the fog lights.
Source: FolienCenter-NRW