Loewenstein Impress With LM63-700 Mercedes-Benz C63 AMG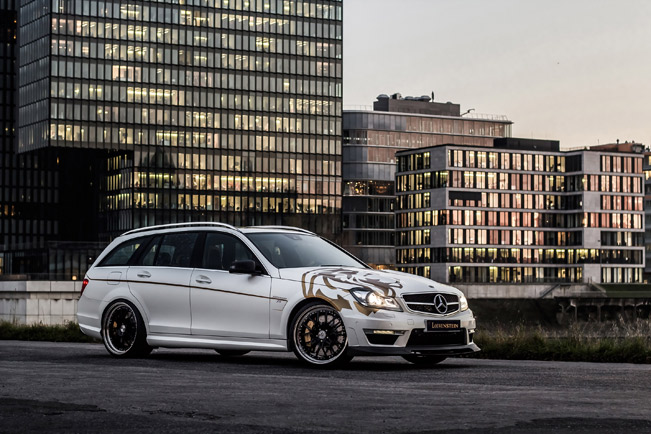 It's not easy making a break in the aftermarket niche. It takes time and determination to build a good image. Only then will the majority of people will feel secure in handing in the keys to their prised stock-mobiles.
All that being said, we would like to wish good luck to the young, up-and-coming tuner house from Germany, Loewenstein Manufaktur. Here's their latest creation which started off a as Mercedes-Benz C63 AMG.
"457 hp", they must have said, "not nearly good enough."
Thus, we open the hood and find a Magnuson-Roots displacement compressor and a big intercooler. Both installed and deinstalled as easy as one, two, three. Plug a few cables in and you have yourself a 702 hp 6.2-liter V8 plant with 883 NM of torque itching to destroy the rear tires. It won't though. "The engine capacity does not descend "uncontrolled" on the rear wheels, but unleashes rather more elegantly and comfortably thanks to a continuous and flat torque curve". They say. If you, nevertheless, feel that the power is way too overwhelming, there's an optional on/off button available that goes right on the center console.
Loewenstein have also provided their own prototype coilover kit and the fine tuning has been made with the help of ZF Sachs. For that extra something, there's also an automatic limited slip differential available. An in-house high-performance braking system, on the other hand, gives you all the stopping power you need: 8-piston calipers and 380-mm disks at the front; and 4-piston calipers and 356-mm disks at the back.
Visual treats:
Matt carbon external mirros, front spoiler back diffuser compile, what Loewenstein call, the "carbon-fiber exterior program". At the back you also see the company's own exhaust pipes peaking out – part of a system that employes an exhaust manifold with substitute primary catalytic converter pipes as well as a Loewenstein performance module.
Wheel choice varies between the 1-piece "Klassik" rims in sizes 8.5x19 and 9.5x19 with Michelin Pilot Super Sport tires in dimensions 235/35ZR19 and 265/30ZR19; and the 20-inch multi-piece "Rennsport" rims in sizes 8.5- and 10.5-inch. They wear even lower and wider Michelin Pilot Super Sports (front: 235/30ZR20, rear: 285/25/ZR20).
Inside, one finds a bi-color theme on the predominantly leather/Alcantara interior. There's also aluminum for the pedals and carbon/aramid for the decorative strips here and there.
All in all, a very decent start for the guys Lowewenstein – a project that has surely gotten people talking.
Source: Loewenstein