Ford 3-Wet paint technology - Greener than the others
Global paint shops in India, Romania, Mexico and China are in the process of rolling out a Ford-exclusive paint technology that will not only save the shops time and money, but will lessen their environmental footprint and result in a high-quality product.
Ford continues its leadership position in implementing the new technology in the U.S., readying its launch of the process at Michigan Assembly Plant in Wayne, Mich.
"Our 3-Wet paint technology is cost-efficient. It's environmentally sound. And it produces durable, high-quality painted vehicles," said Bruce Hettle, executive director, Global Manufacturing Engineering. "It's another example of how we are implementing world-class manufacturing both in North America and around the world."
About the technology
The 3-Wet paint technology is a combination of process and product that has allowed Ford to restructure its paint shops on a global scale. Leading the way is the high-solids, solvent-borne paint formulation developed by Ford and its suppliers that produces fewer emissions than current waterborne and solvent-borne paints, yet allows Ford to maintain its industry-leading long-term paint durability.
An automated application process eliminates the prep stage in a paint shop, allowing the three layers of paint – primer, base and enamel – to be applied one after another without manual intervention and while each layer is still wet. The result is a superior product that offers a savings in time – specifically, about a 20 to 25 percent reduction in process time – along with a leadership position in sustainability.
Along with its suppliers, Ford pioneered the development of the high-solids coating material, successfully delivering both quality and durability and meeting all of the company's industry-leading quality paint metrics in chip resistance, scratch resistance, etch resistance, durability and outstanding appearance.
Ford was the first OEM to implement the technology with its pilot launch at Ohio Assembly Plant. There, plant personnel monitored the durability of the technology used on 200 Ford Econoline vehicles – which logged 400,000 miles in their first month on the road as U-Haul trucks – and noted they still looked fresh from the factory.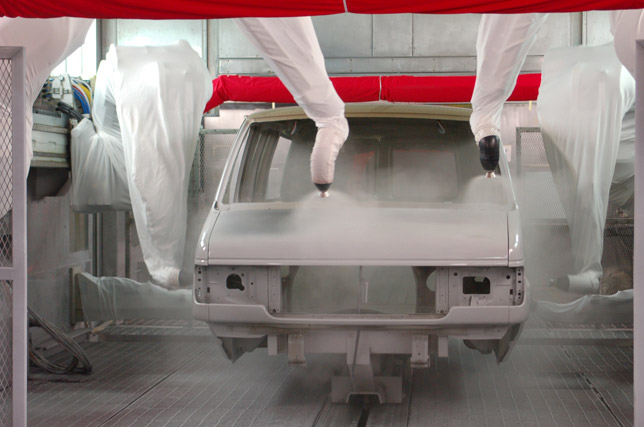 "The durability is every bit as good as Ford's expectation for performance during customer usage, and we lead the industry," said Tim Weingartz, manager of paint materials and strategies. "It's not just to industry standards – it's to Ford standards."
The benefits expand beyond just the product. Because of the differences in technique – including robotic processing, elimination of equipment and associated pollutants, and increased line speed – there are 6,000 metric tons fewer CO2 emissions per year compared to waterborne systems and 8,000 metric tons fewer CO2 emissions per year compared to conventional high-solvent-borne systems. There also is a Volatile Organic Compounds (VOC) emissions savings of 5 percent related to processing.
The company will build on its North American success, launching the process at the Michigan Assembly Plant in Wayne, Mich., now being retooled for small car production. Additionally, the more environmentally friendly paint process will be launched in Ford paint facilities in manufacturing sites in India; Craiova, Romania; Cuautitlan, Mexico; and China.
"It's a clean, capable process," Weingartz said. "It continues to prove out its value again and again."