Ford Escape Doing 33 MPG EPA Estimated
Ford announced today that the all-new Ford Escape EcoBoost has been EPA-Certified and returns 33 mpg (at best). If that turns out to be true, the competition will have a hard time shining through it. Mind you, we are talking about the smallest engine mated to an automatic in a small SUV. The other two engines that come with the Escape boast 30 or above mpg.
"The fuel economy of the all-new Escape showcases the continued success of Ford's development of smaller, yet more powerful engines, " said Raj Nair, group vice president, Ford Global Product Development. "Ford understands people want fuel-efficient vehicles without sacrificing power and space requirements."
The base EcoBoost then: its displacement stands at 1.6-liters, power output amounts to 178 horsepower and 184 lb-ft. of torque. That's 20 more hp and 30 more torque than the Mazda CX-5. A mid-range choice offers a 2.0-liter EcoBoost with 240 horsepwer and 270 lb-ft. of torque. Estimated highway economy: 30 mpg. Urban: 22 mpg. The third one is a 2.5-liter iVCT unit. It develops 168 horsepower and 170 lb-ft. of torque. Fuel economy remains around the same (31 on the highway) when compared to the 2.0 EcoBoost.
EcoBoost engines are standard in the SE, SEL and Titanium editions. The SE and SEL models come with the 1.6L standard and the Titanium comes with the 2.0-liter. The 2.5-liter is available in the S edition.
Partly responsible for these reasonable figures, is the engine tech. Within the two EcoBoosts, direct fuel injection, turbocharging and variable camshaft timing (Ti-VCT) all contribute to adding power and frugality. They are then mated to a specially calibrated, six-speed SelectShift Automatic transmission which come as standard.
Further improving on the economy are the aerodynamics. The new Escape is helped by a new Active Grille Shutter System. Right between the radiator and the grille, this mechanism acts as a valve which monitors the engine's running temperature and decides whether it should close or open. Thus, an ideal operating temperature is maintained at all times.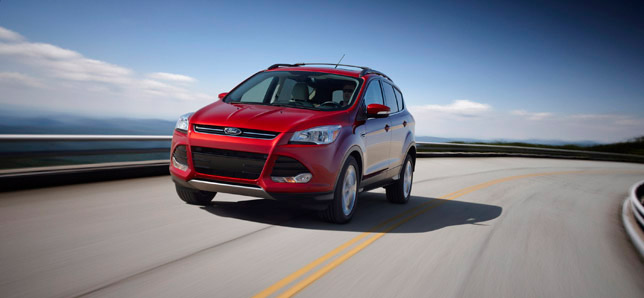 Ford Escape (2013)
Source: Ford