All-New Ford Fiesta PowerShift Automatic in India
Ford are going to delight the Indian market with a Fiesta that has a state of the art PowerShift automatic gearbox – a dual clutch system that helps with frugality and bets on efficiency and reliability. Ford are in fact so proud of it that they have placed a 'seal-for-life' on it, rendering maintenance unnecessary... or impossible. Anyway. Ford argue that one does not need to change the fluids inside for 10 years or 240 000 km. A 2 year/100 000 km warranty is also provided.
The box can be found in two Fiesta trims - Style and Titanium+. The former will be generously equipped with enough technology such as auto AC, a leather steering wheel and some fog lights. The Titanium+ gets all of that plus leather seats, alloy wheels, park assist and electronically folding wing mirrors.
Power will come from an India special 1.5 L Ti-VCT engine unit that is fully compliant with the country's emission standards. Working together with the lightweight (no torque-converters and oil sumps inside) PowerShift box, that engine will return around 38 mpg - A class leading fuel economy (the Fiesta in India is a sedan).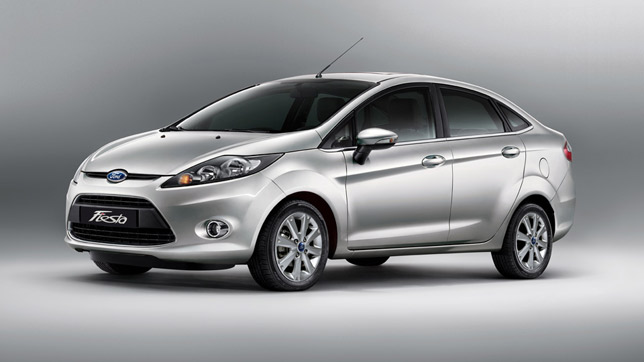 Other pearls of the Fiesta include the driver aids and safety features. It's got Cruise Control, Hill-Assist and Grade-Assist (auto descent from a hill on a constant, comfortable speed), ABS, dual airbags and a thing called Creep Function. That sounds a bit disturbing but actually what it is, is a system that allows the car to move slowly without much effort from the driver when in traffic jam.
The car is sound, soundproof, rigid, compact yet spacious, technologically advanced and now, with the addition of the PowerShift automatic, it is also very easy to live with. Ideal for everyday life in India? Why not?
Source: Ford