Ford GT '66 Heritage Edition is here to win some hearts
Pays Tribute to Historic Livery on 1966 Le Mans Winner 
Ford GT '66 Heritage Edition is not just another limited Ford. It comes to honor, the GT40 Mark II car, which made historic victories at Le Mans with drivers Bruce McLaren and Chris Amon. The year of course was 1966.
Making the long story short, this car is paying tribute to the GT40 Mart II by sporting its livery. But what makes the new model really exclusive is the fact that it will be strictly limited to production in 2017 model year only, and it will be created in limited quantities.
In short, the '66 Heritage Edition has a Shadow Black exterior. It can be chosen in either gloss or matte finish. The contrasting point is made by the silver stripes that run in the middle of its body, while the pint of salt and pepper is added by the exposed carbon fiber package.
SEE ALSO: The lightweight 2016 Ford GT becomes even lighter: there are carbon-fiber wheels already available 
Frozen White hood and door graphics are the other elements of the exterior that make it fresh and at the same time remind us about the historical event. Running on 20-inch one-piece forged alloys in a gold satin clear-coat with black lug nuts, the car truly stands out among its siblings and more importantly – among other cars on the road.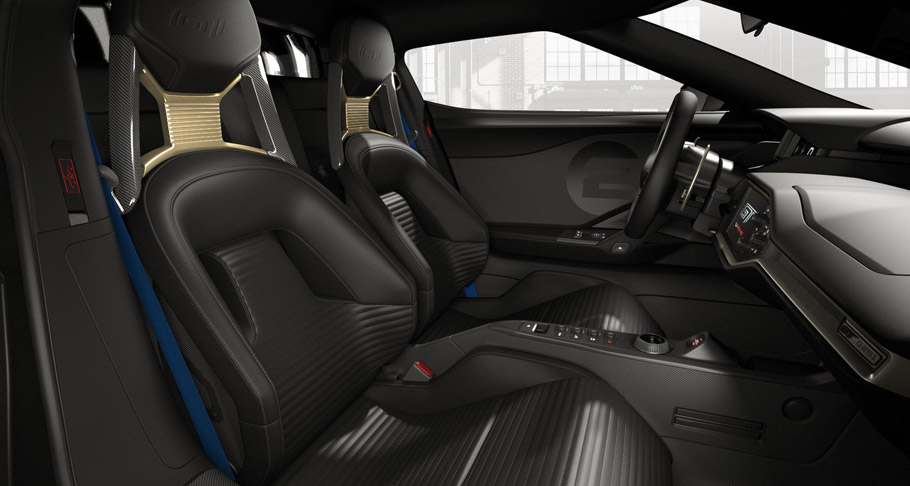 On the inside, this Ford GT boasts carbon-fiber seats in Ebony leather with pillowed inserts and plow-through stitching. The same material has been used for the instrument panel, pillars and headliner. Gold appliqués are featured on the instrument panel, the seat's X-brace and shift paddles. We see the Ford GT logo on the seats' head restraints and the steering wheel. By the way, speaking of the steering wheel, it too has been leather-wrapped, just like the one in the 1966 race car. Another similarity is that the seat belts featuring a unique blue webbing.
At last, to highlight the uniqueness of the GT '66 Heritage Edition, Ford added serialized identification plate (#2) on the interior door, exposed matte carbon fiber door sills, air pods and center console.
As some may say, GT40 Mark II race car is actually the true predecessor of the Ford GT. What do you think?
Source: Ford