Ford Has Two New Engines For 2015 F-150 [VIDEO]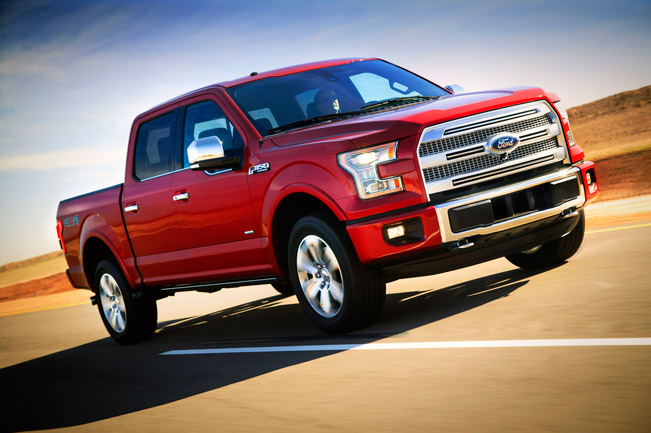 2015 Ford F-150 will be powered by two new engines: the 2.7-liter EcoBoost with standard Auto Start-Stop and the 3.5-liter V6 with twin independent variable camshaft timing. They will contribute for more efficiency, performance and capability. The twin-turbo 2.7-liter EcoBoost V6 unit includes new design, and can deliver up to 325 horsepower (239 kW) and 510 Nm (375 lb.-ft.). It also enhances the power-to-weight ratio of the truck by 15 percent.
This powertrain also has a maximum payload rating of 2,250 pounds and maximum tow rating of 8,500 pounds. On the other hand, the standard Auto Start-Stop technology for F-150 delivers optimum efficiency. It has been specifically developed for the F-150. It shuts off the engine when the vehicle stops and when the brake is released, the unit restarts. This technology not only helps save fuel but also minimizes CO2 emissions.
2.7-liter EcoBoost uses for the first time the graphite iron cylinder block in a gasoline engine. This material can be seen utilized in the 6.7-liter Power Stroke turbo diesel V8 in Super Duty trucks. The composite CGI/aluminum cylinder block reduce weight but at the same time deliver more strength.
The next new engine developed for the F-150 range is the 3.5-liter V6 unit. It delivers up to 5 percent improvement in power-to-weight ratio and also enhanced fuel efficiency and performance. This V6 produces 283 horsepower (208 kW) and 345 Nm (255 lb.-ft.) of torque and has a maximum payload of 1,910 pounds and a maximum tow rating of 7,600 pounds.
Furthermore, the engine has 24-valves and a valvetrain with direct-acting polished mechanical buckets with twin independent variable camshaft timing. In this way it delivers more torque across a wide rpm range. There are also upper and lower intake manifolds that are composite-formed to minimize weight.
What is more, for the new 2015 F-150 Ford has used advanced materials in order to save weight. For instance, the military-grade aluminum alloys contribute to the minimization of body's weight and at the same time make it stronger and more resistant to dents.
All in all, the when compared to the previous model year, the 2015 F-150 is up to 700 pounds lighter. This not only helps the truck tow and haul more, but also to accelerate and stop faster, and operate more efficiently.
Next, to the new engines, Ford is keeping the 3.5-liter EcoBoost and the 5.0-liter V8 with Ti-VCT for the F-150 range.
| | | | | |
| --- | --- | --- | --- | --- |
| Engine | Horsepower | Torque (lb.-ft.) | Payload (lbs.) | Towing (lbs.) |
| 2015 Ford F-150 4x4 2.7-liter EcoBoost | 325 | 375 | 2,250 | 8,500 |
| 2014 Toyota Tacoma 4x4 2.7-liter four-cylinder | 159 | 180 | 1,335 | 3,500 |
| 2014 Chevrolet Silverado 1500 4x4 5.3-liter V8 | 355 | 383 | 2,007 | 11,200 |
| 2014 Ram 1500 4x4 3.0-liter V6 EcoDiesel | 240 | 420 | 1,620 | 9,050 |
Video Source: YouTube
Source: Ford