Ford Introduces Innovative Performance Shift Light Indicator for Mustang Shelby GT350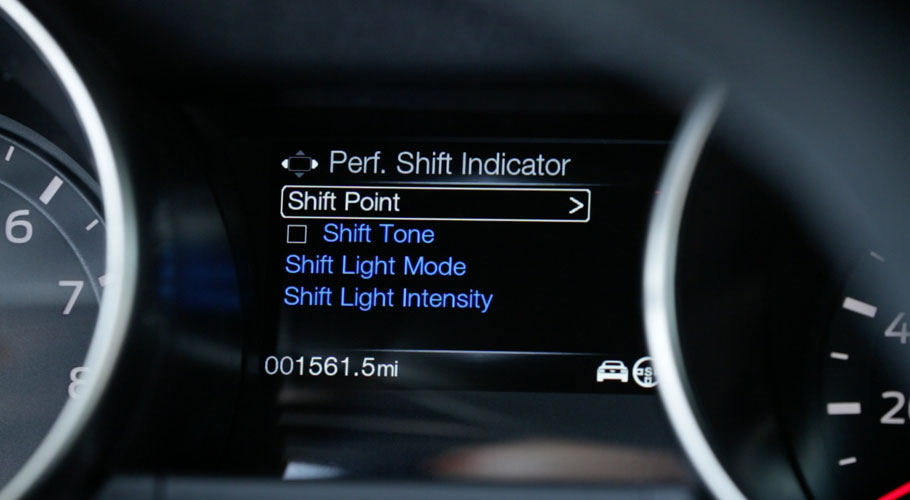 This fall we are expecting to see the new Mustang Shelby GT350 fully revealed but before this happens, we have something really exciting to share. One of the most important things for any driver is to stay focused on the road as much as possible, avoiding unnecessary distractions. In order to optimize the safe driving experience, Ford has now introduced their innovative Performance Shift Light Indicator.
This newly introduced technology offers the advantage of a shift light, thus enabling drivers to keep their eyes on the track instead of constantly checking their tachometer. But what exactly does the ground-breaking shift light indicator represent? It is a heads-up display positioned right in front of the person who drives the car. The indicator can be controlled via the driver information center in the gauge cluster. Customers have the option to adjust the light intensity and to set their own shift points. Moreover, they can choose between three different modes, including: Track, Tach and Drag.
Track Mode: when engine revs build, LEDs light up from the outside ends to the center until the shift point is reached. After that the entire LED bar flashes.
Tach Mode: the amber LEDs light up consecutively from left to right as engine revs build to reveal an easy to see tachometer.
Drag Mode: it allows the driver to set their own shift point as well. This time, however, the whole LED light bar stays dark at first. Then it starts flashing repeatedly when the engine reaches the preset rpm threshold.
The heads-up shift light comes as standard on the all new Shelby GT350 and Shelby GT350R. An interesting fact is that Performance Shift Light Indicator was inspired by an already existing hardware. Precisely, Ford engineer Mike Makled originally built a prototype version of the indicator in his Ford Taurus SHO. While driving, he came to a sudden stop in traffic and the car's collision warning with brake support system flashed its red LED heads-up display. This led Makled into thinking.
As previously mentioned, Shelby GT350 and Shelby GT350R are being introduced later this year. The models are envisioned as really special as they will be limited to 137 units only. The cars will be built in order to honor the original 1965 Shelby GT350 created by Shelby American.
Source: Ford