Shelby is Back: The Legend Shelby Ford GT350 Mustang Revealed!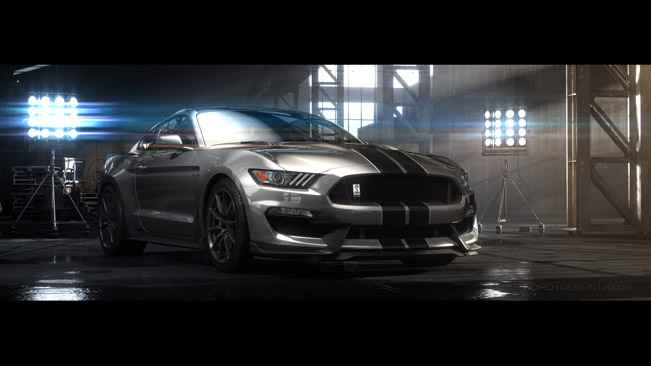 The legend returns! Yes, finally we have seen the Ford Shelby GT350 Mustang and we are delighted to inform you that it will be driven by the 5.2-liter V8 engine which produces more than 500 horsepower. This makes the most powerful naturally aspirated Ford production engine ever! As a true Shelby model, a lot of advanced materials have been used for its construction. The Mustang got MagneRide dampers, aggressive brakes and finely tuned aerodynamics.
2015 GT350 builds on Carroll Shelby's original idea to transform the "every-day" car into a dominant road racer. From Shelby have assured us that driving enthusiasts can expect to be treated to the most balanced and exhilarating production Mustang yet.
Since balance is the key theme her, engineers took an innovative approach with GT350. They haven't developed independent individual systems, but optimized every component and shape to work in concert, and at the same time paying rigorous attention to detail.
Under the hood sleeps the 5.2-liter engine, which is the first-ever production V8 from Ford with a flat-plane crankshaft and is the most powerful naturally aspirated production Ford engine ever. It produces more than 500 horsepower (368 kW), with a torque peak more than 542 Nm (400 lb.-ft.). The unit is coupled with lightweight six-speed manual transmission.
The front stiffness of the GT350 is further improved with injection-molded carbon fiber composite grille opening and optional lightweight tower-to-tower brace. Compared to Mustang GT, the front track has been increased while spring rates and bushings have been recalibrated all around, with ride height reduced.
The stopping power is ensured by the brakes which are two-piece cross-drilled iron discs mounted to aluminum hats. At the front are massive 394-millimeter rotors clamped by Brembo six-piston fixed calipers with integrated caliper bridges, while 380-millimeter rotors at the rear utilize four-piston calipers.
This Shelby creation runs on 19-inch aluminum-alloy wheels, which measure 10.5 inches in front and 11.0 inches in the rear. They are fitted with Michelin Pilot Super Sport tires. Ultra-quick responsiveness is delivered by the continuously controlled MagneRide dampers.
For better aerodynamics, the aluminum hood has been lowered and sloped, front and rear aero elements have been balanced to work together on the track, and the fascia has been resculpted with aggressive lower front splitter.
At the rear of the car we see aggressive functional diffuser doing double duty to increase downforce and provide cooling air to the optional differential cooler. There is also a subtle lip spoiler across the trailing edge of the decklid increases downforce without adding excess drag.
Aluminum front fenders accommodate the wider front track and wider wheel arches. The forward-angled grille is designed with individual openings to draw air through the radiator, high-pressure engine air intake, cooling ducts for the front brakes and, optional with the Track Pack, an engine oil cooler and a transmission cooler.
Inside, the interior is focus-driven. First to mention are the specifically developed for Shelby GT350 Recaro sport seats with a unique cloth. The flat-bottom steering wheel makes it easier for the driver to get in and out, and is more ergonomic on the racetrack. In addition, gauges have been also modified, while the chrome and bright finishes have been reduced or eliminated.
In terms of technology, the car employs the advanced technology inherent to Mustang. For example, the integrated driver control system, the ABS, stability control, traction control, steering effort, throttle mapping, MagneRide tuning and exhaust settings. There is also an optional Tech Pack offered, which includes power leather-trimmed seats, Shaker Audio, 8-inch MyFord Touch LCD touch screen and dual zone electronic temperature control.
Video Source: YouTube
Source: Ford