Ford Introduces Bacon-Wrapped Fiesta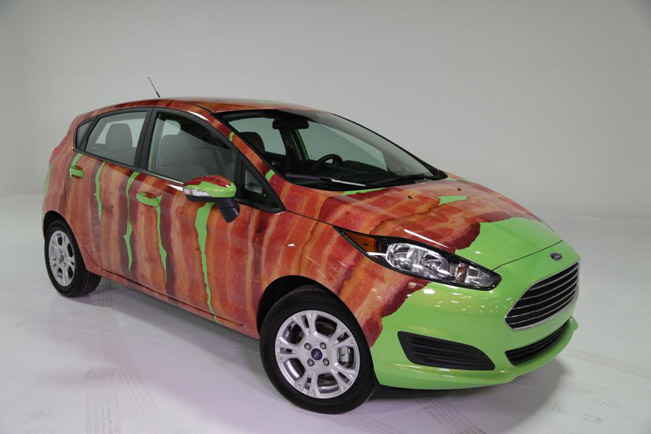 Ford has just introduced one interesting project – a Bacon-Wrapped Fiesta, in order to celebrate the International Bacon Day and the meat which has transformed from a food to a lifestyle. The first in the world bacon-wrapped 2014 Ford Fiesta will also be available in the dealerships around the United States.
To be more precise, the "Bacon Wrap" is in fact 10 giant strips of bacon rolled around the entire Fiesta. Benton, who is also known as the King of Bacon, has personally approved the design. In addition, there are also other options from the bacon-wrap Fiesta menu. For example, there are Bacon Racing Strips offered. These are two pieces of bacon that go on the car's hood and resemble classic dual racing stripes.
Another option is the Side of Bacon, which is two individual strips of bacon that wrap over rear wheel, and this will become probably popular among those on a diet. The car was especially designed for those having a hunger for self-expression.
What is more, the tasty Fiesta will offer its customers an EPA-estimated fuel efficiency rating of up to 41 mpg on the highway. Additionally, the Fiesta interior will include worthy technologies and features.
Source: Ford