Steve Arpin's Ford Fiesta Is "Royal Purple"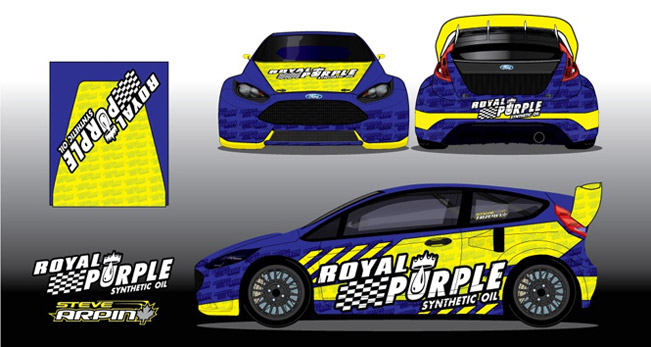 Steve Arpin Royal Purple Ford Fiesta has fresh looks and has just been unveiled via the first design sketches. It will show its fresh new appearance when it debut this weekend at the Red Bull Global Rallycross event in New York. This is the fourth race of the series for the 2014 season and it will be held at Nassau Coliseum.
To be more precise, the striking new design is a very colorful decision, which differs from the car's look in the first three races of the year. This new visual stance will be utilized for the remainder of the 2014 Red Bull GRC season.
Arpin himself said that this Fiesta has the perfect design for the wild and exciting series. And this was the reason he has decided to brighten up the car with the Royal Purple paint scheme and to give it some more color.
The driver will make his 13th start of his Red Bull GRC career in New York. In all of the races he has come in Royal Purple-backed Ford Fiestas. He earned the first podium of his career in the 2014 season opener at Top Gear Festival Barbados. He is currently third in the series' Supercars championship, being 27 points back of the lead.
The latest Ford Fiesta in company's range is powered by the updated 1.0 liter EcoBoost three-cylinder engine. It produces 140 horsepower (103 kW) that is a result of unique calibration with new settings for turbocharger boost control, valve-timings, intercooler and throttle management. With the new engine, the Fiesta accelerates from 0 to 100 km/h in 9.0 seconds on its way to a top speed of 201 km/h (125 mph). The fuel consumption is only 4.5 liters / 100 km with corresponding CO2 emissions of 104 g/km.
Source: Ford