Ford Mustang 50 Year Limited Edition Sold for $170,000 at Barrett-Jackson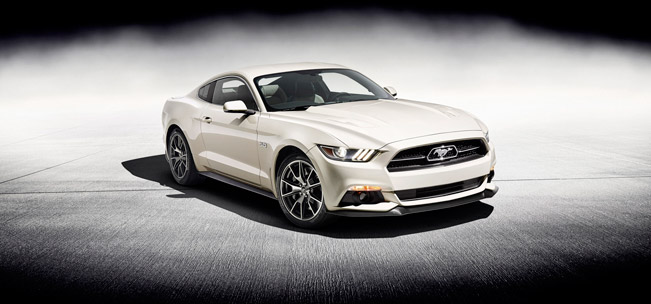 The last production Ford Mustang GT 50 Year Limited Edition model with the badge No. 1,964 has been fetched $170,000 USD at the Barrett-Jackson Las Vegas auction. The proceeds will benefit "Get Your Heart Racing" fundraising event that supports Henry Ford Health System's Edith and Benson Ford Heart & Vascular Institute.
The winner of the bidding is Jack Fairchild. He is not only the proud owner of one of the rarest of this limited stock, but we must highlight that he has also made an important contribution to the health and well-being of individuals across the United States.
This limited edition Mustang is based on the 2015 Mustang GT fastback but includes a performance package. 50 Years Limited Edition delivers outstanding performance and unique appearance.
It is driven by the upgraded 5.0-liter V8 engine, which produces 420 horsepower (310 kW) and 530 Nm (390 lb.-ft.) f torque. Every 50 Year Limited Edition will be equipped with the Mustang GT performance pack, which includes six-piston Brembo front brakes and 19-inch alloy wheels fitted with high-performance Y-speed-rated Pirelli P-Zero summer tires.
Inside, there is a distinctive aluminum trim panel that spans the double-brow instrument panel and gets an axel spin finish. A special serialized 50 Year Limited Edition badge on the passenger side adds also to the uniqueness of the model. This limited-edition Mustang is the only model with a cashmere-stitched, leather-wrapped steering wheel. The same stitching is also applied on the instrument panel, shifter boot, center armrest, door inserts and seats.
Ford and Barrett-Jackson have raised more than $6 million US dollars at various auctions benefiting local and national charities.
Source: Ford