2015 Ford Mustang Convertible Combines Function And Design [VIDEO]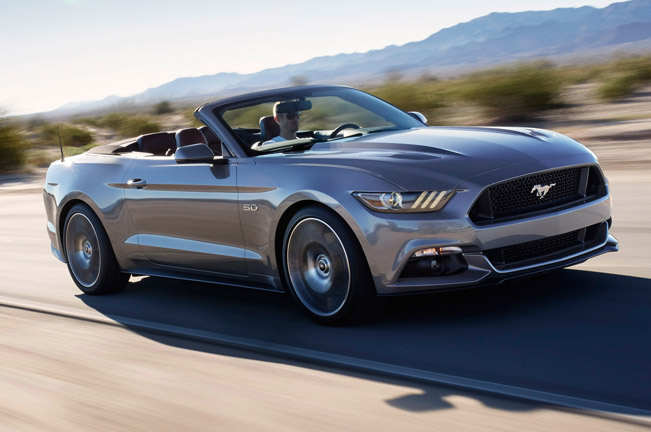 2015 Ford Mustang Convertible is here and as its fastback sibling it is redesigned from the wheels up in order to offer more driving enjoyment. As a true Mustang it has unique design characteristics which make it instantly recognizable.
As a matter of fact, it has an entirely redesigned top system, and as the technicians and creatives at Ford say, it is the best convertible they have ever built. Both the fastback and the top-lees 2015 Mustangs include an array of important changes, while at the same time deliver enhanced standards of performance, luxury and refinement.
An innovation for the MY2015 is that every convertible roof is getting a full fabric outer layer, as well as full inner headliner to incorporate the five-bow structure. In between these layers is positioned the full 10-millimeter thick insulation pad which contributes for the quietness of the muscle car inside.
Furthermore, the new Ford Mustang features electromechanical drive system, which raises or lowers the roof in half the time required previously. This is achieved via press of a button on the center console. The significant use of high-strength and ultra-high-strength steels throughout the body structure delivers more stiffness, which is enhanced by 13 percent, and fully utilizes the independent suspension. As a result, the cabrio has more refined ride quality and enhanced handling.
Usable cargo space is also offered in the 2015 version of the Mustang. This is due to the more compact roof and flat load floor, making enough space for two large golf bags. In addition, the wider rear and the new top design contribute towards more shoulder and hip room for rear-seat occupants.
2015 Mustang fastback and convertible are equipped with the line-up of Ford engines, including the new turbocharged EcoBoost 2.3-liter power plant. There is also available the updated 420 hp (309 kW) 5.0-liter V8 unit, which can be coupled with a manual or automatic six-speed transmission. The models are also equipped with state-of-the-art connectivity systems, available advanced driver-assist systems, track applications and launch control.
Source: Ford