Ford Mustang Shelby GT500 vs Corvette Z06, Panamera, GT-R and Gallardo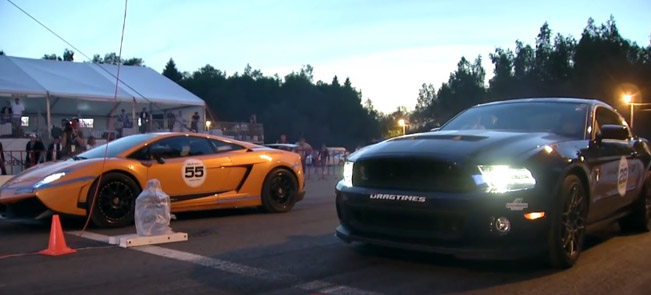 Dragtimesinfo has published a video with Ford Mustang Shelby GT500 with 667HP going against Chevrolet Corvette Z06 Supercharged with 750HP, Nissan GT-R Mk.2 Ecutek Stage 2 with 660HP, Porsche Panamera Turbo S Stage 1 with 700HP and Lamborghini Gallardo LP570-4 SL UGR Race Version with 2005HP.
The first start was versus the Z06, which lost the race. The Mustang GT500 stopped the clock on 30.867 seconds with 267 km/h on 1 mile.
The second race was against the GT-R, which won the race with 29.728 seconds and 288 km/h on mile, while the GT500 set 30.321 seconds and 266 km/h.
The third start versus the Panamera was also doomed, because the Porsche had almost a second lead over the Shelby. The Panamera Turbo S Stage 1 crossed the finish line in 29.711 seconds with 273 km/h, while the Mustang needed 30.607 seconds.
On the last start, the Mustang GT500 set personal absolute speed and et records on 1 mile – 30.225 seconds with 270 km/h, but the winner was the super powerful Gallardo UGR crossing the finish line in 24.422 seconds with 358 km/h.
Source: Dragtimesinfo