2013 Ford Shelby GT500 Durability Car Auctioned
Ford have announced that the 2013 Ford Shelby GT500 durability car (the prototype that was used to develop the production series) is to be auctioned at the 41st Annual Barrett-Jackson Collector Car Auction Saturday in Scottsdale, Ariz. The reason is also a just one – bidding money for the car will go for the Juvenile Diabetes Research Foundation (JDRF).
Up until recently, the prototype had been used by the Ford SVT team and Carroll Shelby to workout how exactly a car performs under rigorous tests and harsh conditions. It was built in 2007 and as a part of the project, it had to be run for 24 hours at a speed of 150 mph on Sebring International Raceway. Other oddities one should know before pulling out the check book include a full-sized roll cage, six-point harness seat belts and Recaro bucket seats. A big plus however, is the underside of the trunk lid which is signed by every SVT engineer who has worked on the development of the GT500 and it is also signed by Carroll Shelby himself.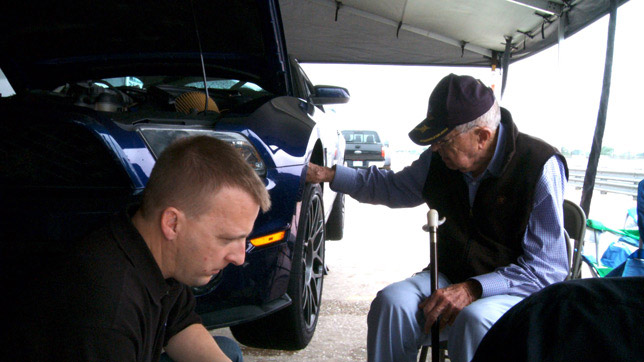 "I raced on the Sebring International racetrack for many years, but my ambition was always to build my own car," said Shelby. "It was exciting to be back to collaborate on this GT500 durability car with the SVT guys. I'm really proud to have my name on this car. They took my dreams of what a car should be and made it a reality."
The 5.8-liter V8 engine in the Shelby GT500, has been overhauled in a way so that the maximum of power can be extracted from it – a new transmission, clutch and axle, cross-drilled block and heads, restyled camshaft profiles, a carbon fiber driveshaft. The end result accounts for the 650 horsepower and 600 lb.-ft. of torque that hide under the hood.
In recent years, Ford have managed to raise more than 3 000 000 dollars for charity on auctions such as this one. And know a lucky muscle car enthusiast will have the chance to obtain am emblematic "pony" and give something to those in need trough the JDRF.
Source: Ford