Ford Ranger at the 2014 Dakar Rally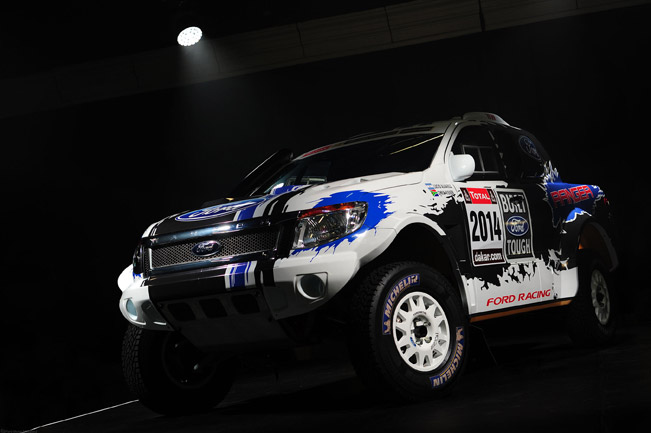 Ford will participate in the 2014 Dakar, taking place from 5th to 18th January 2014 in South America. For the tough rally two Ford Rangers are built and prepared by Neil Woolridge Motorsport.
The two T6 Ranger 4x4 Double Cab vehicles are powered by a 5.0 liter V8 engines with 349HP (260 kW) at 4,500RPM and 560Nm (413 lb-ft) of torque at 4,100RPM. The engine is mated to a Sadev 6-speed sequential gearbox linked to a permanent four-wheel drive setup. The fuel consumption is between 28 liters / 100 km and 90 liters / 100 km, when driving in sandy racing conditions.
These custom Rangers benefit from an independent front/rear suspension, front/rear antiroll bar and ride on 16" Evocorse wheels shod in 245/85 Michelin tires.
The stopping power is provided by Brembo and feature front air-cooled and rear water-cooled brakes.
The crub weight of 2014 Ford Ranger for Dakar is 1,975 kg (4,354 lb-ft).
The first crew features Lucio Alvarez and Ronnie Graue, while in the second car will be driven by Chris Visser and Japie Badenhorst.
The 2014 Dakar Rally Route is sure to be as trying as ever. The event will start in Rosario, Argentina on January 5 and finish in Valparaiso, Chile on January 18 after thirteen stages of competition, which will comprise a total distance of over 8,500 kilometres.
Ford Ranger Technical Specs:
Base Vehicle Regulations Engine Engine Management Power Torque Rev limit: Fuel consumption (L/100 km): Body Suspension

Brakes

Fuel Cell Gearbox Cabin Differential Steering Internal Electronics Driveline Drive wheels: Top speed: Mass:

T6 Ford Ranger 4x4 Double Cab FIA / ASO T1 Ford Aluminum 5.0L-4V V8 with Twin Independent Variable Cam Timing Magneti Marelli [email protected] 4500r/min [email protected] 4100r/min 5500rpm 90L / 100km in sandy racing conditions and 28L / 100km on normal road driving Full Composite Independent Front and Rear Twin BOS Dampers/Wheel Antiroll Bar Front and Rear Brembo Water Cooled Rear Brembo Air Cooled Front 500L Sadev 6 Speed Sequential, permanente 4 wheel drive Air conditioned LSD Unit Front and Rear Sadev GEMS GKN 16 inch Evocorse rims fitted with 245/85 – 16 Michelin tyres 170km/h 1975kg
Source: Ford