FuelCulture Hyundai Genesis Coupe at the 2012 SEMA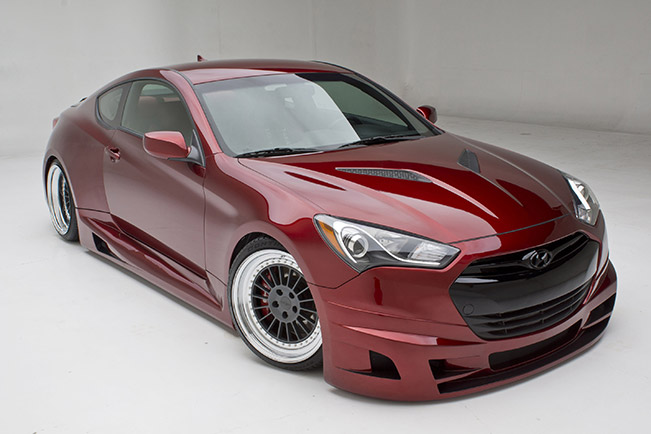 FuelCulture and Hyundai has presented their project – a special edition Genesis Coupe at the 2012 SEMA Motor Show.
The car comes with a lot of upgrades (see below), but the most important are under the hood. The 2.0 liter turbocharged petrol engine gets an ARK DT-S exhaust system, ECU remap, Injen CAI and Chase Bays AN fuel line kit. The result is superb – 315HP (235 kW) and 328Nm (242 lb-ft) of torque. In other words, the RWD sports car becomes unique fun toy.
The other upgrades include a suspension mods and interior upgrades for more comfort. It boasts a diamond-stitched front and rear seats as well as the door panels. The audio system is also improved by Rockford Fosgate.
Exterior
Infinite Auto Design Custom Widebody Rear Kit (50mm)
Infinite Auto Design Custom Sideskirts
Infinite Auto Design Custom Front Bumper
VIS Racing K2 Carbon Fiber Trunk
VIS Racing Proline Rear Lip
Dupont Hot Hues Candy Apple Red Paint
Suspension
BC Racing Coilovers
Energy Suspension Bushings
Whiteline Front Sway Bar
Whiteline Rear Sway Bar
Wheels/Tires
Chasebays Brake Lines
Continental Extreme Contact DW 225/35/19 Front Tires
Continental Extreme Contact DW 265/30/19 Rear Tires
Password JDM Lugnuts
Rotiform IND 19x9 Front Wheels
Rotiform IND 19x11 Rear Wheels
Baer Disc Brake Rotors
Engine
ARK DT-S Exhaust System
Boost Controller
Chase Bays Engine Grounds
Chase Bays Electronic Boost Solenoid
Chase Bays Brake Booster Eliminator
Chase Bays Brake Line Relocation
Chase Bays Clutch Line
Chase Bays AN Fuel Line Kit
Chase Bays Power Steering Kit
ECU Flash
Injen Cold Air Intake
Password JDM Oil Cap
SPEC Stage 2 Clutch
Interior
Infinite auto Custom Diamond Stitched Door Panels
Infinite Auto Custom Diamond Stitched Front/Rear Seats
Rockford Fosgate P165-S Speakers (2)
Rockford Fosgate P165 Speakers (2)
Rockford Fosgate PBR300x4 Amp
Rockford Fosgate PBR300x1 Amp
Rockford Fosgate P2D2-12 Subwoofer
Rockford Fosgate RFK4D Amp Install Kit
Source: Hyundai